1. WeGrow Kindergarten, New York City
Futuristic, playful yet homelike and structured – WeGrow's open-plan Kindergarten in New York City is a visual treat and a refreshing change from the traditional compartmentalised classrooms. The private elementary school and kindergarten follows the Montessori approach and is designed with a free and fluid theme.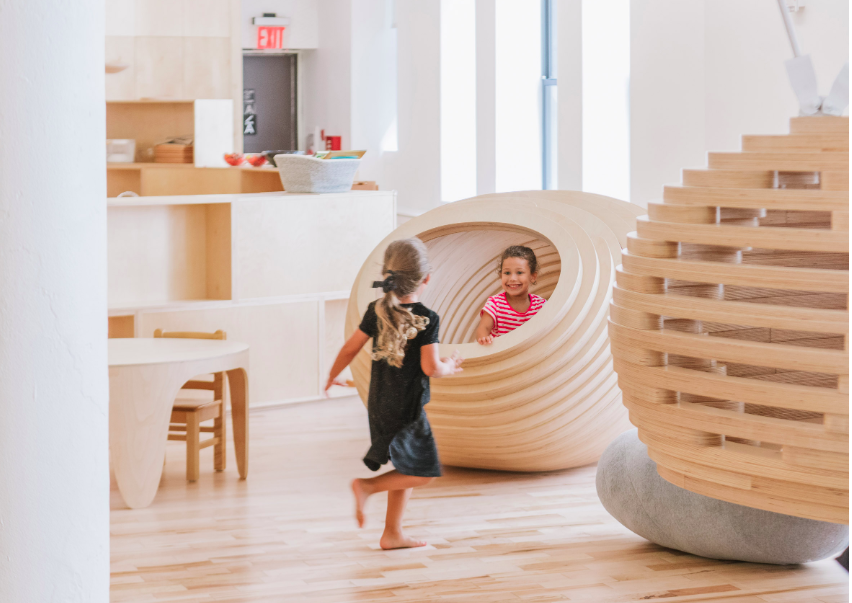 Source: Dezeen
Complete with modular classrooms, tree houses and a vertical farm – the school seems to weave in nature with futurism effortlessly.
Enormous wooden pods allow the children to clamber in and out. Curved wooden bookshelves and stacks of large green cushion interspersed with large pebble-like grey pillows strewn on the ground further add to the free-flowing design of the building.
Now, the design is not the only element that sets this stunning school apart.
WeGrow is also carving out a niche for itself as a kindergarten for budding entrepreneurs. Besides spending their time in explorative play, yoga and mindfulness exercises, the little tots are given the training not just to identify their passion early on in life but also to act on them, says one of the school's co-founders, Rebekah Numen in a Bloomberg report. 
Children are given the opportunity to take up apprenticeships under employees and members who are already living the dream, and then put the little nuggets of knowledge they gained into actual practice.
For instance, the school is currently running a pilot program where a group of students, aged 5 to 8, spend a day at a nearby 60-acre farm once a week. From getting familiar with the crops and produce to doing the math to keep track of the products sold from their farm stand, the children get to dig their hands in the practicalities of running an actual farm business.
You can find out more about this interesting initiative on the WeGrow website.
2. Fuji Kindergarten , Tokyo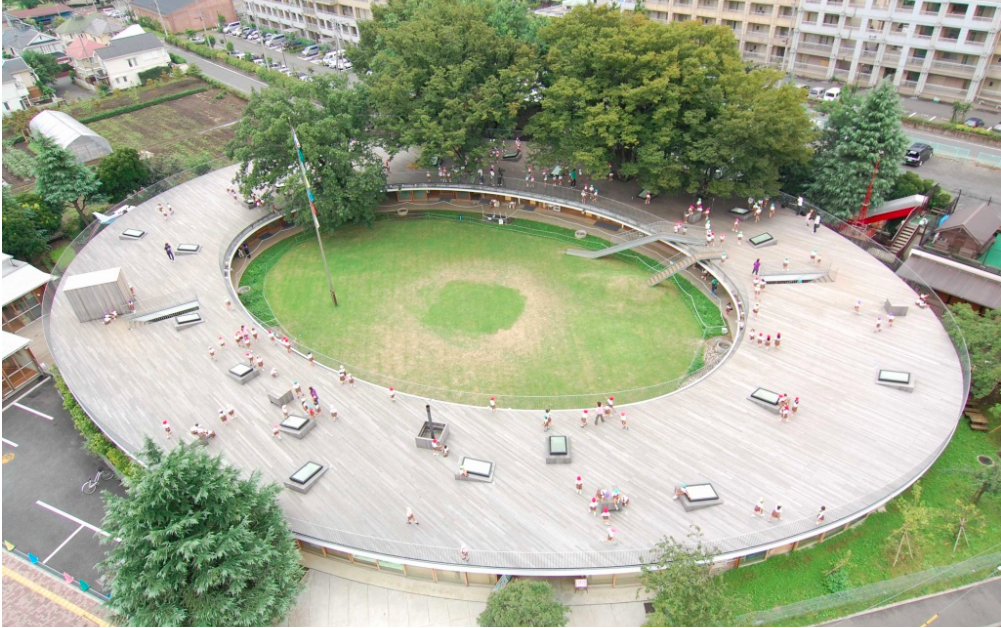 Source: Tezuka Architects
This award-winning kindergarten in Tokyo takes the no-barrier, no-compartmentalisation concept to a whole new level. Architect Tezuka is all for learning in sync with nature and believes confining children within four-walled classrooms is unnatural and counterproductive to positive learning.
And that's precisely why the  Fuji Kindergarten is designed with no barriers between classrooms or between the interior and exterior of the building.
The open roof of the oval-shaped building also doubles up as a playground and running track. The design is aimed to help children to adapt and blend in with nature and break away from an over-protective, controlled environment.
This Montessori style kindergarten has 600 children aged between two and six. You can watch Tezuka's Ted talk here for a peep into the design process behind this fascinating concept.
3. Kindergarten Die Katze  ,  Germany
This giant cat-like kindergarten in Germany is designed by artist Tomi Ungerer and architect Ayla-Suzan Yndel is just about as whimsical as it gets for a playschool! Each day, the 100-odd children get to make their way into their classrooms through the gaping mouth of the giant cat.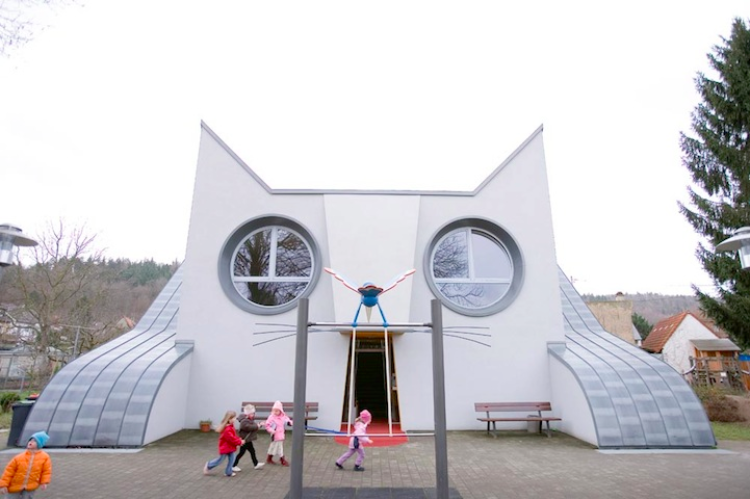 Source: Mymodernmet
If that's not fun enough, they get to woosh out into the backyard through the kitty's tunnel-like tail!
4. Georgia's Aeroplane turned Kindergarten
This kindergarten in Rustavi, Georgia operates out of a retired Yakovlev 42 aeroplane from the Soviet era.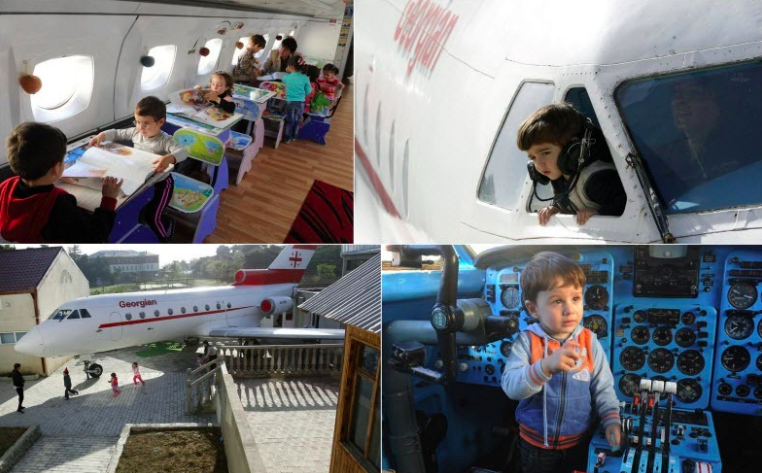 Source: Amusingplanet
The aircraft was bought from Georgian Airways by Head Teacher, Gari Chapidze, refurbished and refitted with educational toys and furniture. But the best part is - he left the cockpit with the buttons and knobs intact for the children to practise their mock take-offs and landings.
The teachers report the children love playing around in the aircraft so much that they do not even want to go home at the end of the day. And, we are not surprised!
Know of any more fascinating kindergartens from across the globe? Please don't hesitate to share it with us!
You might also like:
6 Creative Cognitive Activities for Preschoolers
Recent Comments