Looking to steer children away from an overdose of chocolates that come camouflaged as advent calendars? Here are some brilliant DIY ideas to add a good sprinkle of excitement and Christmas magic to advent activities this year.
Advent from around the world 
This brilliant advent activity from Thirdculturemama is perfect to get the children to appreciate the essence of the festive season and think about the world beyond themselves. Apart from the wrapped up gift they get to pick from the gift board, they get a peek into different cultures and Christmas traditions across the globe.
So, how do you go about it?
Wrap 24 different presents each representing a different country of the world. Number the presents and stick them on a big board. Assign a number to each and get the children to pick a number from the lot. Each day of December, the children will locate a country on the map that corresponds to the number they chose. They will then get to unwrap the present, learn a little about the country and it's Christmas culture.
Lego advent calendar with doors 
This one from Frugalfun4boys is an absolute treat for lego lovers. Complete with sliding doors and lever-operated doors that swivel open, this advent calendar is a lot of fun to make. And the best part is, it's not one of those commercial, made-from-a-kit kind. You can use all the jumbled up pieces you have and think of inventive ways to engineer them into a structure with 24 compartments, each of which will hold a little treat or note inside.
Felt truck advent calendar 
The beautiful felt truck laden with brightly coloured gifts is such a joy to look at! If you are up for some serious craft, this advent activity is a lot of fun to do as well.  And the best part of them all is adding a gift and a kind gesture or give-back initiative to reinforce the importance of giving - anything as simple as baking something for a friend or getting the little ones to write a letter to their grandparents. Check out DIY Studio for a full tutorial.
Paper house advent calendar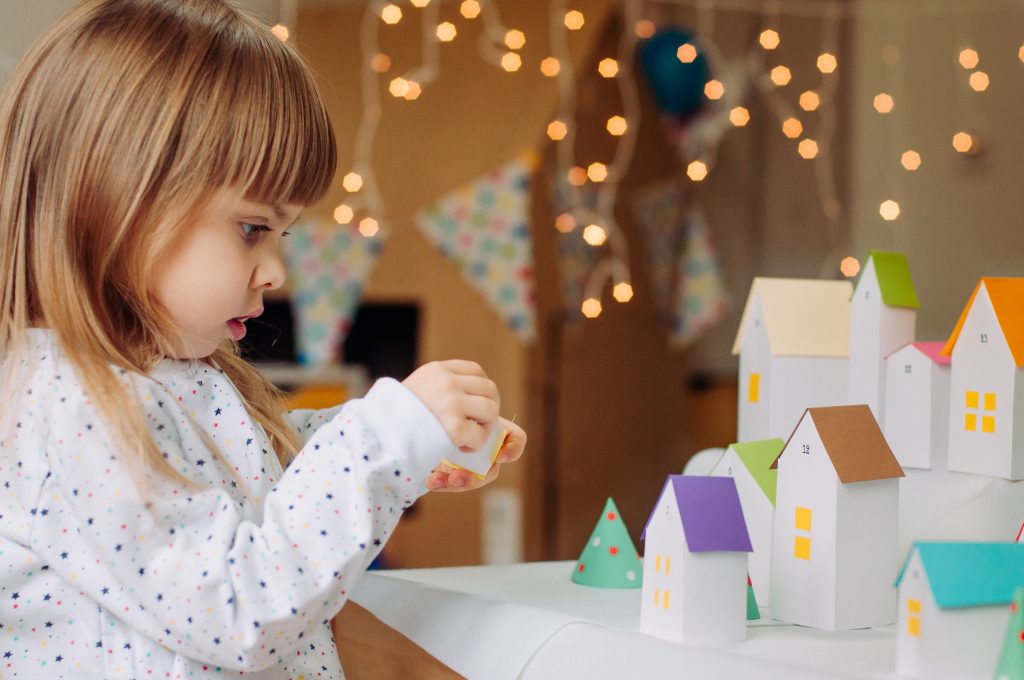 There is nothing like a dreamy little paper house village to add a touch of whimsy to the Christmas season. The design we found here on Deliacreates is incredibly beautiful but requires a silhouette cutting machine, hot glue guns and a whole set of accessories. If you are looking for something simpler, check out the Scandinavian-inspired paper house village from allfreechristmascrafts.
Acts of Kindness Advent Calendar
Another beautiful calendar that captures the spirit of Christmas! No sweets or presents to give away with this one. Just little cards to inspire the li'l ones to take up one random act of kindness each day. Lovelyindeed has a great set of printables and a full tutorial for this dream-catcher-like advent calendar.
Advent calendar with balloons
Most of the ideas above were a bit heavy on the craft side. Now, if you are looking for something quick, simple and different, the balloon advent calendar is just about as fun and easy as it can get.
Get 24 balloons (helium or not). Put in a little present (and shredded tissue for confetti) into each. Tie them in a line on a yarn and get the little ones to pop one every day!
Let the count down to the magical season begin!
You might also like:
 Edible Christmas Craft Ideas for Kids  >View Article
Pre-school Activities for a Snowy Day  > View Article
Recent Comments