With the internet swallowing up the yellow pages and other traditional platforms of advertising, the marketing success of any businesses now mostly revolves around their ability to rank high on the results page of Google. If you are looking for ways to improve the search engine ranking of your childcare business, business directories is a free platform you can tap into.
Getting your childcare business listed with online directories such as Yell, FreeIndex, Yelp, Foursquare etc. can help you build good quality backlinks to your website (for free). This, in turn, can improve your chances of getting a higher rank on Google, and position you ahead of your competitors in the race to be found by potential customers.
Now, what are the things to know when listing your childcare business with business directories?
1. Keep Your Details Consistent
Remember to keep the 'Name of your business', 'Address' and 'Phone Number' consistent on all the websites you list your business with. Make sure any changes in your business name or contact details gets updated in all the listings. This is especially important if you are taking over another childcare business with the same address or phone number. You could run a quick search with a citation tracker tool to get a list of all the sites your childcare centre is already listed on.
Any variations in the details can mislead the search engines and each of the addresses will be treated as different businesses and can have a negative impact on your search engine rankings.
2. Claim Your Website
The task of business listing does not end with you creating a profile and adding all your details on the website. Remember to activate your account and claim your website.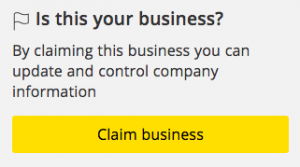 It could take a few days to few weeks for some websites to verify your listing and send you the link to activate your account or claim your business. Make sure you check your inbox for links to activate the account and check your profile for the option to claim your business and update your details.
3. Separate Email Id to Keep Out the Spam
While it is best to provide your business email in the contact (for instance info@xyznurseries.com), you can consider creating your directory profiles using a separate email id – as you are likely to get your inbox flooded with emails from third party providers.
4. Add a Link to Your Website
This will help any potential customers who land on your profile to click through to your website directly. Plus, this is the part that will help you build links to your website and give you brownie points from Google.
5. Document 
Keep a spreadsheet to document the listings as you go. You could save the link to each of the profiles, the date of creation and the login details so that you can access the information all in one place when you need to update your profiles. You can also consider using a password manager tool to save your logins securely.
You might also like: 
Marketing Tips for Out of School Clubs: 7 Ways to Promote your After School Program
Recent Comments