Cheqdin's direct debit is not the regular direct debit most people will be used to. A direct debit system that sends invoices to customers with a 'Pay Now' option. Now, what is that all about, you might ask?
Let us explain.
Direct debit is one of the most popular choices for business looking to cut down payment admin and automate their payment collection. In the UK alone, over 60,000 businesses use the system to collect their bills. It's much cheaper (1-1.5 % per transaction) than credit/debit card payments (which cost around 3% per transaction). It allows you to deduct fees directly from your customer's account - without the customer having to initiate the payment.
Now, the system should work perfectly for most of your busy customers as well, as they will have one task less on the list of things that demand their regular intervention. And the mandatory Direct Debit Guarantee will shoo away any fears of them having to jump through hoops for a refund if a payment gets taken out from their account in error (or by fraud).
So, all in all,  it should be a win-win for both parties involved.
However, unlike with most other businesses, the typical direct debit system might not be the perfectly oiled mechanism for childcare and after school care business - if you follow a variable billing pattern or accept a combination of different payment methods from your customers.
The regular direct debit does give you the provision to accommodate these requirements reasonably. But you will still find the resultant processes adding to your admin time and complicating your accounts and record-keeping.
Cheqdin's Direct Debit: How it all started
We were doing our market research about bringing in a new payment system when many of the childcare providers we spoke to highlighted a major hurdle they faced in payment collection - late-payments and the tedious admin involved in collecting, chasing up and reconciling payments.
Although they were unsure of what a potential solution could be, 70% of them did have a more or less clear idea of what they wanted the system to be like. An 'automated payment collection and reconciliation platform' that would accommodate their variable billing patterns and let them offer flexible payment options to their customers.
Now, that was how we started out.
We toyed with workflow changes to the regular direct debit system and vetted a long list of online payment collection ideas from the team. It was then that one bright spark brought up the possibility of an 'invoice-linked direct debit system'. Rather than debiting direct debit payments on a set date, why not create a system where you invoice the customer in advance before a payment due date? Now, why not?
A 'Pay Now' button in the system could give customers the option to amend their payments if needed. The childcare centre, on the other hand, can track these invoices conveniently from their dashboard and get the payments auto-reconciled on their system. Perfect.
So, we went ahead with the idea, vetted the prospects with experts from the field and finally partnered with leading direct debit providers GoCardless. Together we set out to turn direct debit on its head and build a new tailor-made system, exclusively for the childcare industry.
Now, How does Cheqdin's Direct Debit work?
Every time a customer signs up for a direct debit with you, they will start by signing an online direct debit form/mandate which will authorise you to pull out  'the invoiced amount' from their account on the 'invoice due date'. This means you are not tied down to collecting a fixed amount from them each month.
You can charge variable amounts – based on what's owed to you for that billing period -  without going through the hassle of contacting the bank or seeking the parent's signed consent each time.
But, you will, of course, have to give your customer a heads up about each upcoming payment by invoicing them at least seven days in advance.
Why 'Pay Now'?
The 'Pay Now' button is a link embedded into the email accompanying the direct debit invoice you send from your Cheqdin invoicing system.
What the link does is,  it gives your customers the option to pause the auto-direct debit for that particular invoice, and enter a new amount they want to go out from their bank for that invoice.
For instance, if the invoice amount is £500, and your customer decides to pay £125 by childcare vouchers, they can click on the 'Pay Now' button and change the 'Payable Amount' to £375. The amount debited from their account will be £375 instead of  £500. However, this 'manual payment' option (as we call it) will only work if the customer uses it before the due date on the invoice.
If they do not, the original invoiced amount (£500 in this case) will automatically come out of their account on the invoice due date.
Now, how do you know what the payment status is for your invoice?
To make sure you are not left in the dark about the progress of your payment, we will update your dashboard with the live-status of your incoming funds and the amount that has been debited. That is, if a customer makes a 'manual payment', you will see the status updated on your dashboard as 'Manual Payment -DD' soon as the funds are deducted from your customer's account. And in case they do not amend their payment, you will see the payment mode displayed as 'Auto Direct Debit' on your dashboard.
Not only that. Once the payments come in, we will also auto-reconcile the payments by matching each pay-out to the relevant invoice.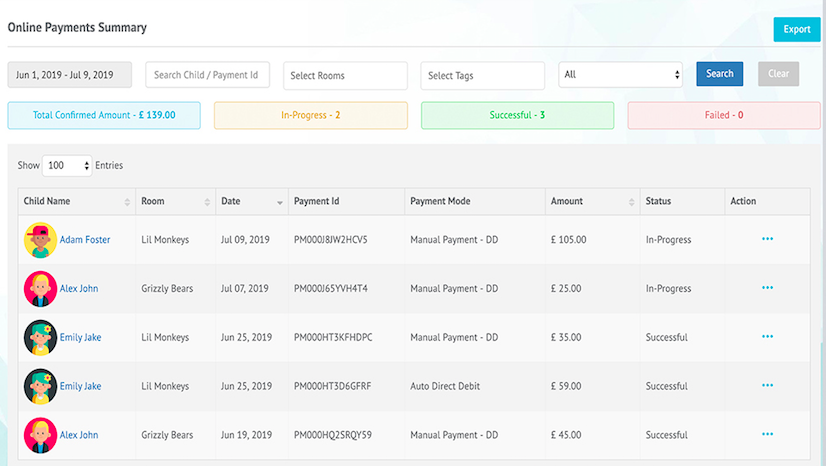 So, all in all, what our direct debit system does is -  it clubs the best of 'direct debit' and 'bank transfer' in a way that lets you automate your payment collection and reconciliation while letting your customers retain the flexibility of using a combination of different payment methods - if they need to. And, all without the tedious back and forth emails, phone calls and dreary admin that would otherwise follow!
You might also like:
How to attract more parents to your activity club?  >View Article
After school club boking system: Is in-house or subscription the better option?  >View Article
Recent Comments