We are incredibly excited to announce the launch of our much-anticipated module - a fully-automated direct debit solution for childcare providers. Following the release of our billing and invoicing solution earlier this year, we joined hands with leading direct debit providers GoCardless to build a custom-made payment solution for preschools and after school clubs.
Here is what we did.
We combined the best parts of traditional direct debit (low transaction costs, auto-payment deduction and high security) with automated tracking and reconciliation features to help you monitor, collect and reconcile payments faster - and with minimal manual intervention.
So, how's our system different from conventional direct debit?
1. No paper mandates. You can send our online direct debit forms to parents and track the setup status using your billing dashboard.

2. Your payment collection is not triggered by CSV uploaded files to your banking portal as is typical with other direct debit systems. We have simplified the process by linking your payment collection to the invoices you send from our system. You can collect and reconcile payments automatically for all Cheqdin invoices irrespective of whether they are ad-hoc or recurring.
3. Flexibility for those who need it. A convenient 'pay now' feature on the invoice to give parents/carers the flexibility to pay part of the invoice using childcare vouchers or alternate payment methods. If your customer does not take action before the due date specified in your invoice, the full invoice amount will be auto-deducted from their account on the due date.
4. Unique feature to monitor payment processing status. Banks typically take 3 to 5 days to process each payment. With our tracking feature, you can monitor the status of each payment as soon as the funds are deducted from your customer's bank account.
5. Immediate notification if payment fails.
6. No more manual reconciliation. You don't have to spend hours cross-checking your records with your bank statements to see if your payments have come in. Our auto-reconciliation feature allows you to keep track of all your payments from your billing dashboard. Invoices will be marked as paid/partially paid or unpaid depending on the payment status.
Which currencies do we support?
To ensure our global customers benefit from our payment solution, we provide support for the following countries and currencies: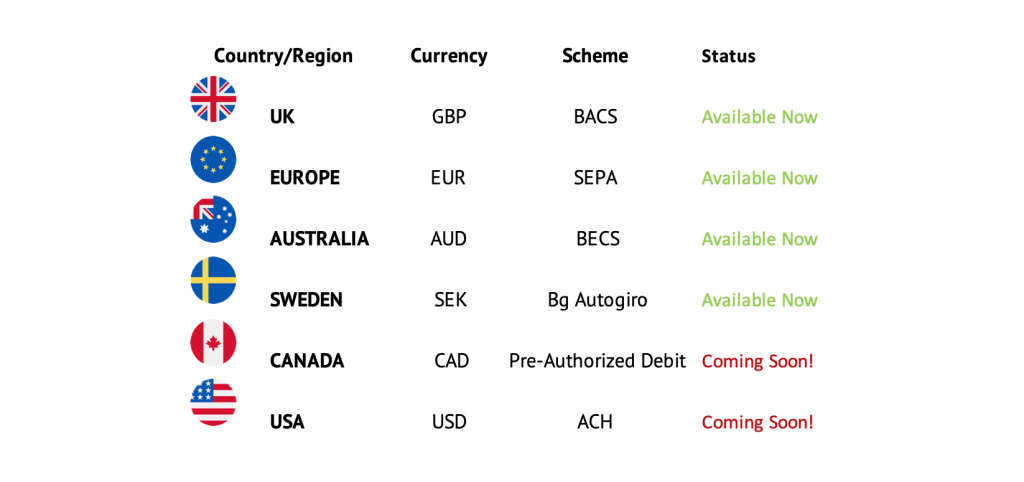 Next steps:
If you are an existing customer, please head over to the help centre in our portal for information on how to configure our direct debit. If you need any assistance, reach out to us at hello@cheqdin.com
If you are a new customer, feel free to schedule a call with our product expert to get all your questions answered.
You might also like:
Cheqdin introduces rules-based invoicing  >View Article
8 Reasons why pre-schools and after school clubs should use direct debit  >View Article
How to get parents to pay their childcare fees on time?  >View Article
Recent Comments