What is scarier than a little vampire pouncing on you in the middle of a call? A disgruntled toddler heading for a meltdown because mum and dad were too busy forgot to sort out a costume in time. Again.
Well, most of us here have learned the consequences the hard way. And that's why we thought it would be good to keep a list of last-minute outfits handy, just in case.
So here it is.
10 Last-Minute Halloween Outfits for Kids
Hector from Coco
A simple red hoodie, a pair of jeans, a smidgen of face paint and a guitar for a prop. Pat your back, you have Hector from Coco.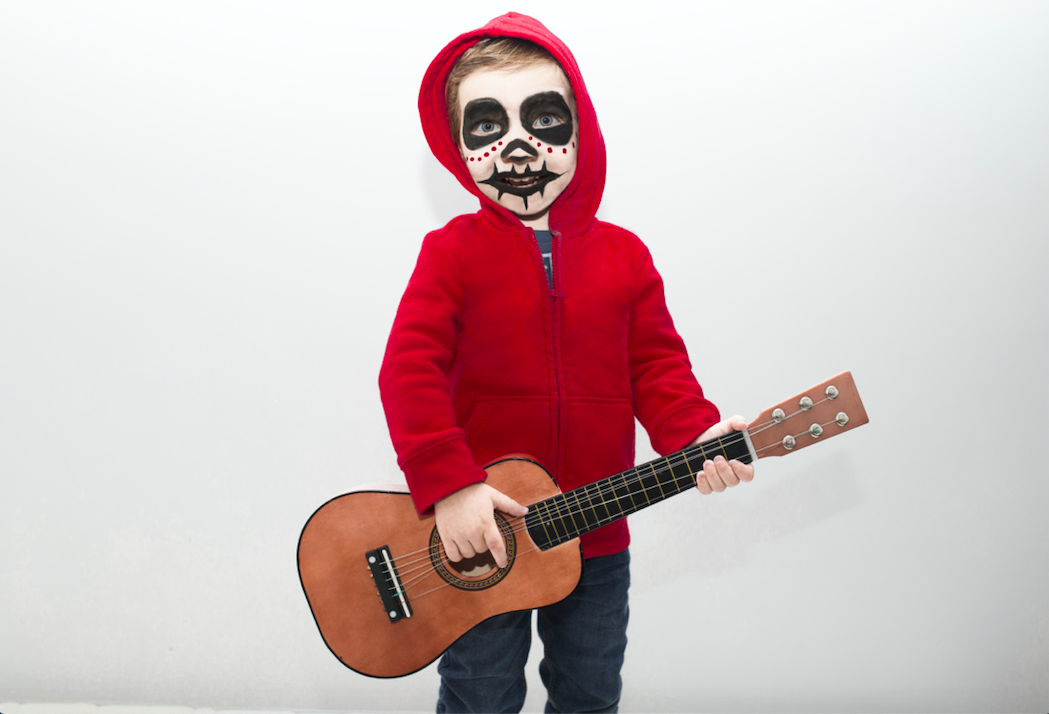 Don't have face paint at home? We can sort that out too. Mix some cornflour, body lotion and a good splash of food colour – and you have your very own home-crafted face paint.  Pagingfunmums has some useful tips!
DIY Minion
If you happen to have a yellow jumper and denim overalls, you are pretty much there. No overalls? You can DIY one from denim scraps or even draw on suspenders or a minion face with markers! Here are some ideas you could borrow.
A black and white striped t-shirt, black leggings, a black beanie, a quickly crafted black felt-mask and a draw-string money bag - this last-minute little bandit costume from Stitched by Crystal is one that's worth a try.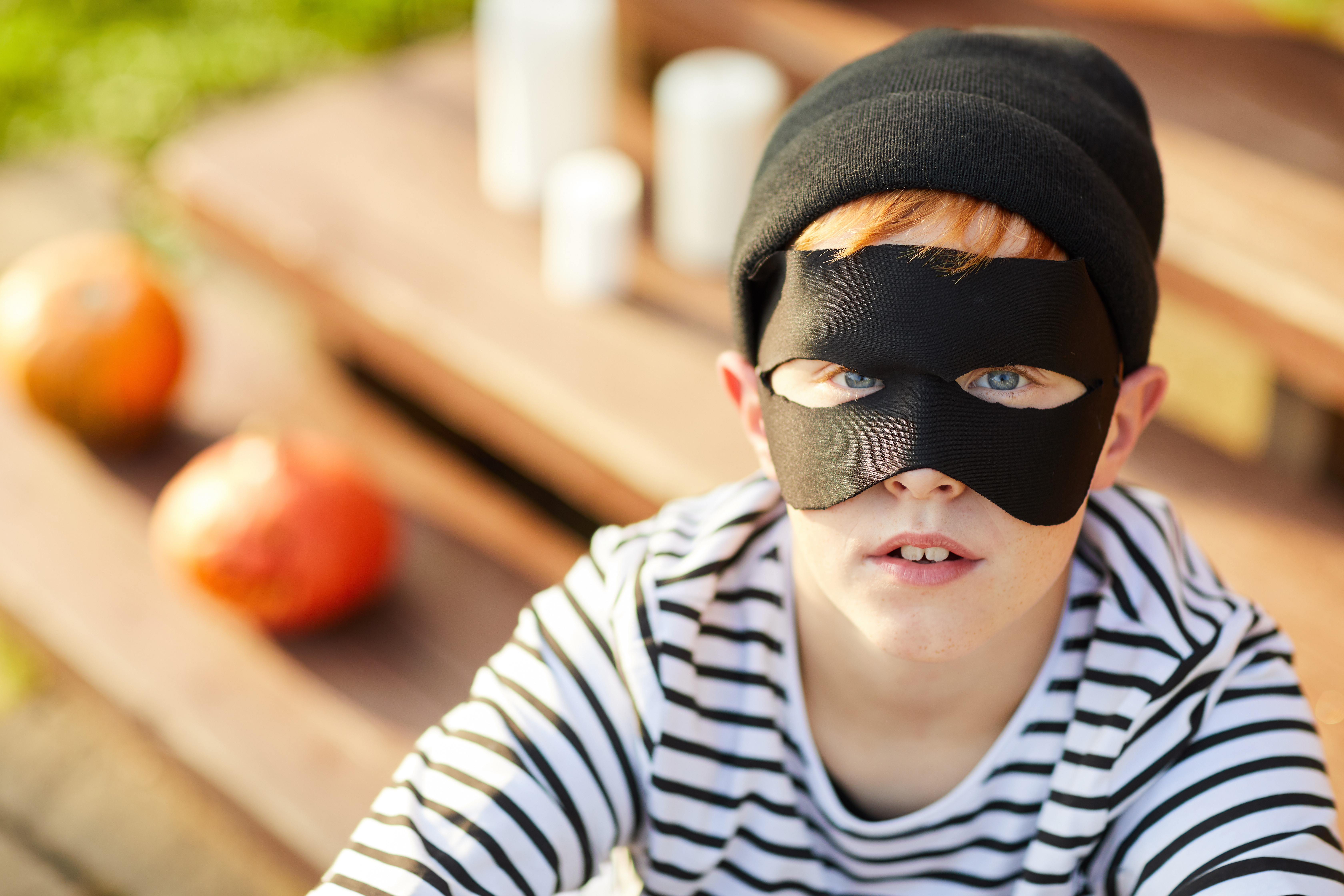 If you have an all-black outfit, you can add a pair of batwings with anything from black felt /cloth to a rickety old umbrella.
For the cloth version, fold the cloth in two and spread it on the floor. Make your child lie on the ground and spread their arms to measure their wingspan and cut the shape out. Littleinspiration has a good tutorial for a no-sew version.  If you want to take it a level further, this bat poncho from mamahoch2 is a great option (provided you are reasonably good at sewing).
Raining cats and dogs costume
This outfit idea from coolest homemade costumes is perfect if you prefer cute to creepy. All you need is an umbrella, a raincoat/poncho and some stuffed animals (cats and dogs) from the children's stash. Secure the cats and dogs on the umbrella with safety pins and a few small ones on their raincoat.
Raggedy Mummy
This raggedy mummy costume from kenarry is cute and creepy, easy to put together and doesn't need much other than some old white t-shirts, gauze and an old beanie hat.
 A cute little scarecrow
This one is super easy. A chequered shirt, dungarees or a denim pinafore and a straw hat, finished off with a dab of face paint or some blush/lipstick and some eyeliner. Sweet and simple.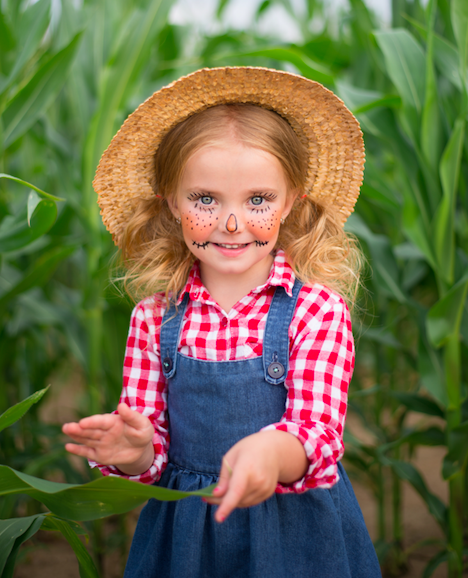 Squiggly Jellyfish
Here is another one with an umbrella in it. This one from stylemepretty is a little more elaborate as you would need to source some LED  fairy lights and iridescent accessories. But it is incredibly cute and refreshingly different from the usual Halloween trope. In case you can't get hold of all the material, you can always get creative with some glow sticks and streaming ribbons!
The paper plate Frankenstein mask from redtedart is perfect to pair with a dark t-shirt, trousers and an old blazer. The mask is quite easy to make and surprisingly impressive for that amount of effort.
This is by far the easiest, and of course, as traditional as it gets.
Pull out an old white bed sheet. Fold it in two. Draw on the eyes with a marker and cut them out with scissors. If you decide not to sew the sides, you are good to go.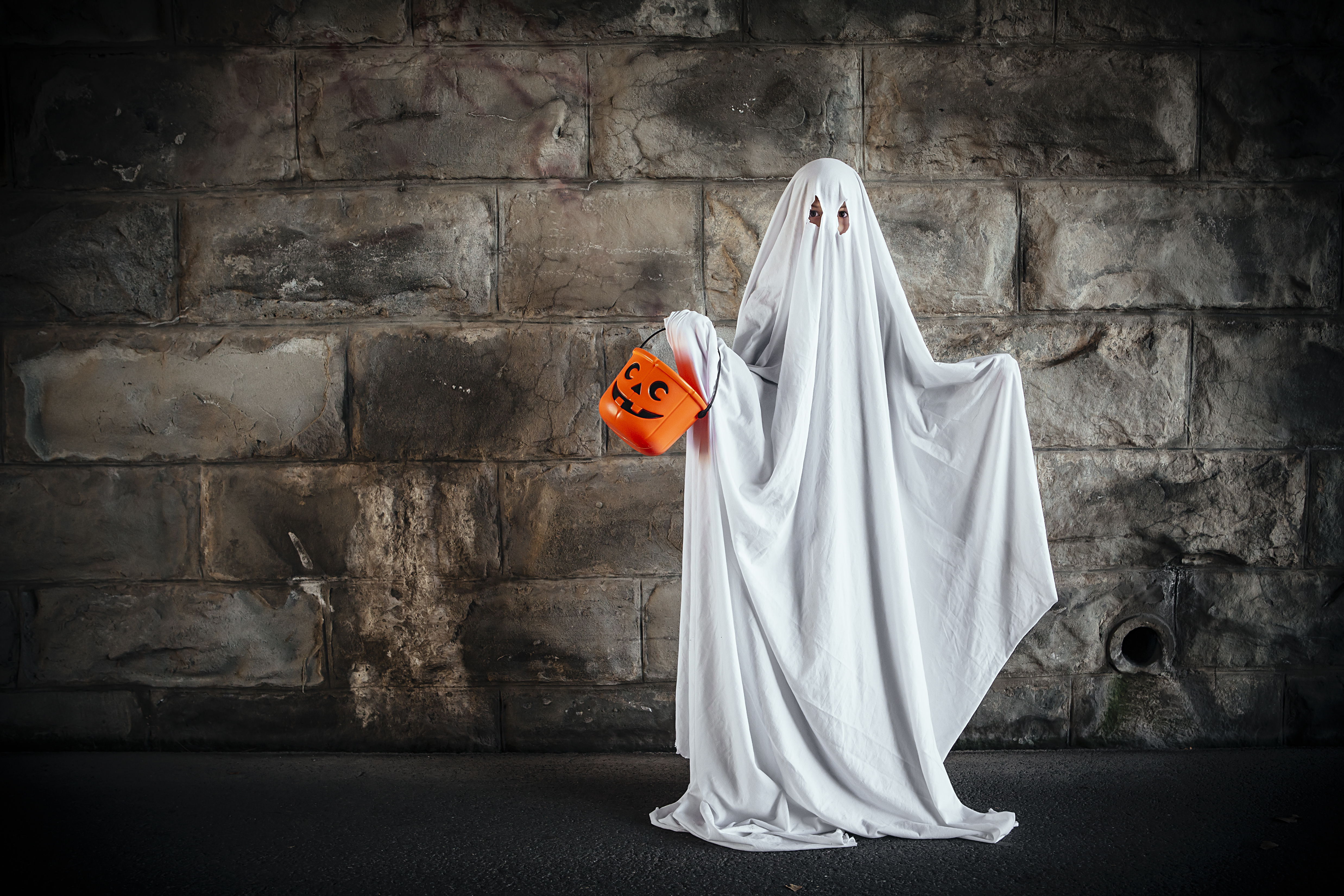 However, if you are looking for a more finished look, you can sew the sides or secure the sides with some iron-on sewing tape (hemming tape).
Put the sheet on your child, measure about 5 inches for hand openings and iron the sides down with your hemming tape. That's it. The little ghost can now glide out in glee for a Halloween prowl!
You might also like:
Socially distanced activities for preschoolers  >View Article
4 Easy science experiments to try out with kids  >View Article
Recent Comments