And yes, it's finally here! We have tied up with PayPal to create a complete online payment solution for childcare providers.
Along with our offline and direct debit options, you can now offer parents the choice to pay you securely via credit card, debit card, or PayPal – all without the hassle of complicated setup and hefty transaction fees.
How is Cheqdin Payments different?
Unlike other subscription software, Cheqdin allows you to offer your customers online (debit card, credit card, PayPal etc.) and offline payment (cash, cheques, bank transfer etc.) choices when they make an online or offline booking with you.
Having worked with a range of childcare providers across the globe, we realise the needs of no two businesses are the same. For instance, some of our customers are happy to allow their customers to book places online and pay later by cash or bank transfer. Some others like to restrict all payments to direct debit, while others prefer to give their customers more choices, including credit/debit card/PayPal etc., to prevent payment delays.
Unless you opt for a custom-built software (which is an expensive solution), it can be quite tedious to manage and track a combination of online and offline payments and the accompanying paperwork. Our new solution has been designed to address this issue.
Cheqdin allows you to streamline and track all your online payments and minimise manual record-keeping for offline payments. While each online transaction made to you will get automatically reconciled on your system, you will have the option to enter all offline payments quickly with a drop-down list on your billing dashboard. This eliminates the need for you to hop between platforms to track your payments and will help you manage all your records using a single software.
You will be alerted every time a new payment is made, and you can go log onto your Cheqdin payment dashboard for a detailed drill down.
Why PayPal?
PayPal is one of the world's most trusted payment gateways with over 20 years of experience and 360 million active users operating in over 200 markets worldwide, with 100+ different currencies. Apart from the personal/business PayPal accounts that many of us use for shopping and financial transactions, PayPal also has a commerce platform – a payment gateway - for businesses to accept credit and debit card payments, which we will be offering for our Cheqdin customers.
PayPal being the popular platform that it is, many people will already have a personal PayPal account with their credit/debit card linked to it. This means any parent/carer with an existing PayPal account can instantly make transactions to you without manually entering their payment details every time they make a booking. If they do not have a PayPal account, they can always pay you with their debit or credit card by using the 'Pay with Debit or Credit card payment option.
Here is an example of what a parent/carer will see on your center's online booking page when they book a place with you: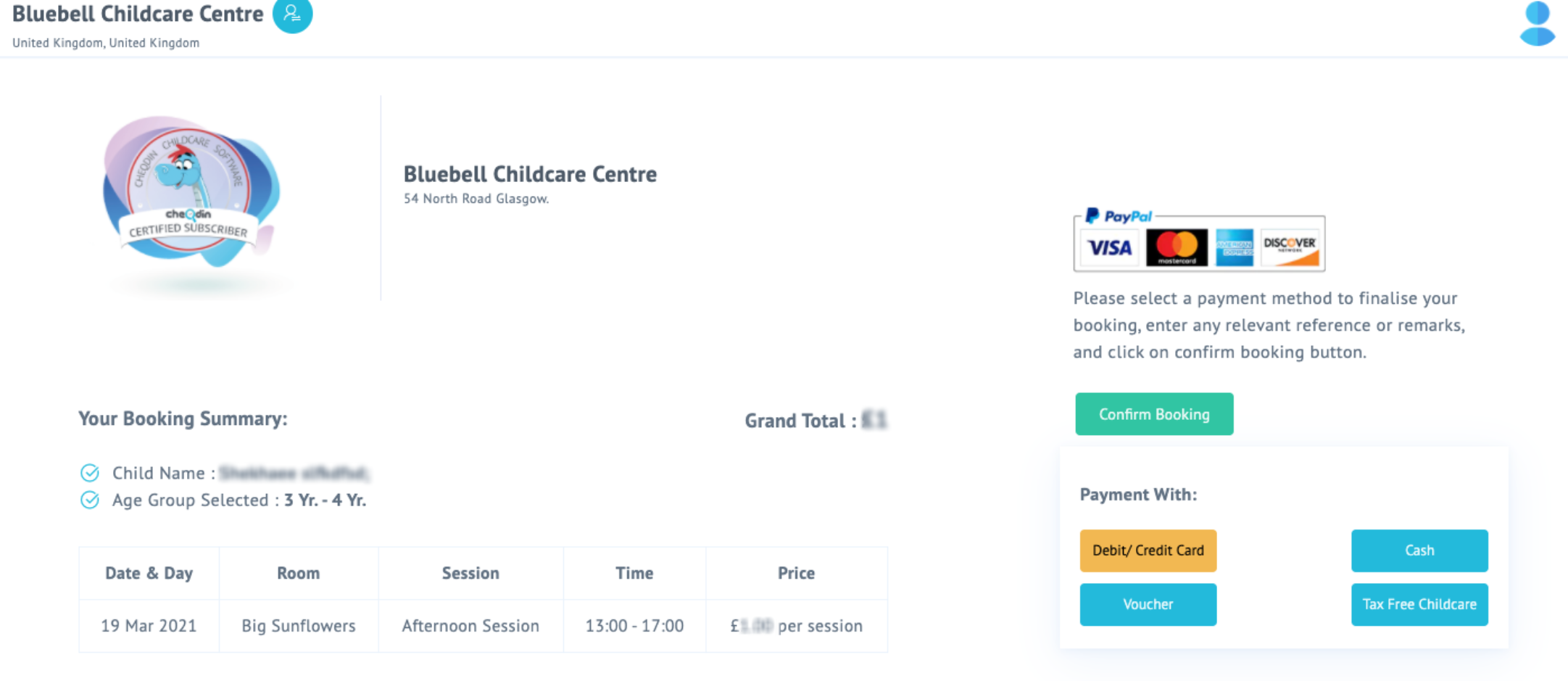 So, don't forget to set up your new online payments if you haven't done it already. If you are not a Cheqdin user yet, please hop over and sign up for our free package to try all our features for free.
You might also like:
The easiest way to automate your nursery admin > View Article
Creating an online registration system for your centre in 4 simple steps >View Article
Recent Comments