For the days when the little minds wander off when you bring out the books, here are some ideas to help you breathe life into stories and nudge the sleepy heads to join in for some story time fun.
Shadow Puppets
Mysterious, alluring and fun, shadow puppetry is a magical medium for creative storytelling. Shadow puppet play is said to have originated in China around 100 B.C as a performing art which was handed down across generations.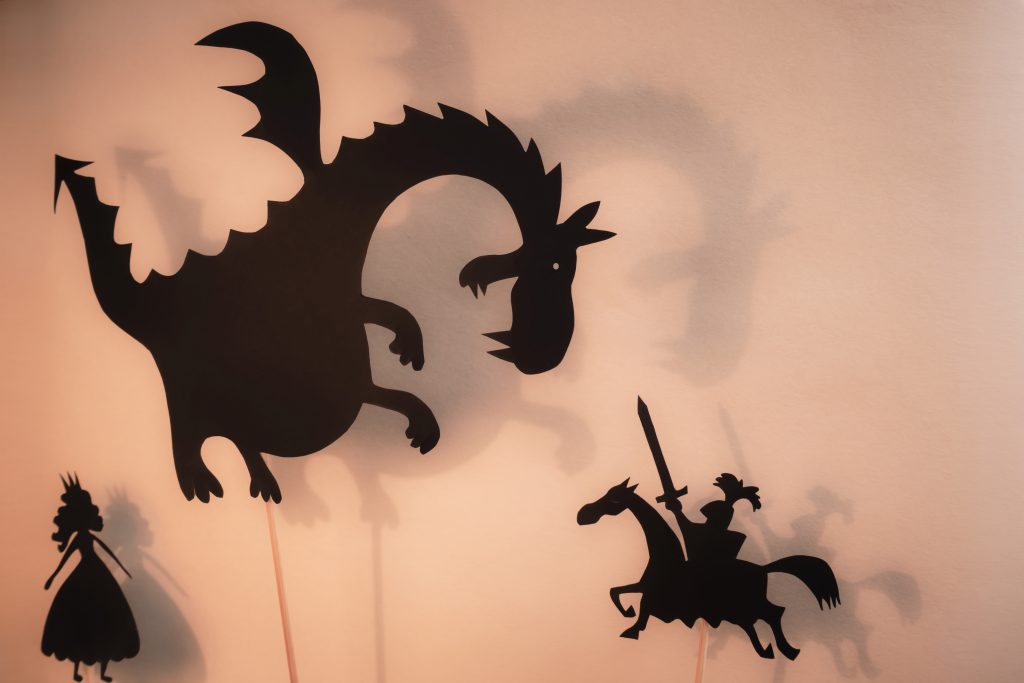 Silhouette figures were specially handcrafted from animal hide or paper and skilfully manipulated behind illuminated screens in what is considered as a precursor to modern day cinema. However, it's surprising how easy it is to recreate this intriguing art form in your classroom, with simple everyday materials and turn it into a fascinating literacy resource.
Things you will need:
Print-outs (or hand-drawn images) of the characters from your chosen story
Thick black craft paper
Bamboo skewers
White bedsheet/cloth (for the screen)
A reading lamp (as the light source)
How to go about it:
Choose the images for the characters in your story and print them out.  Lay the print outs onto thick, black craft paper and cut out the images using scissors or craft knife (for the more intricate parts). Place bamboo skewers behind each of the cutout images and stick it in place with thick, dark, insulation tape or masking tape.
Create a screen by hanging a white bed sheet/ cloth from a door frame or a portable coat hanger, and keep the edges taut by sticking them down with thick adhesive tape. Keep a large piece of cardboard at the bottom of the screen (behind the curtain) to block out the shadows in that area and create a dark screen. Choose the light source and experiment with the light to find out how its position affects the size of the shadows. Get a few children to move the puppets, while you do the narration from the book. Turn all other lights off, add some music if you like, and let the show begin!
Story Box
A story box is a collection of different items in a box, bag or basket that corresponds to the characters or scenes mentioned in a story. Although generally used as a literacy aid for children with visual impairments, it is a great way to stimulate imagination in all young children and weave in a tactile, sensory element into storytelling.
Making a Story Box
You can use anything from a plain cardboard box or biscuit tin to a wicker basket as the container for the story box. Put in a book of your choice and the props to support the story. You do not need to feel pressured to include items corresponding to every single element mentioned in the story. Identify a few special characters and moments in the story and pick out the props that will help those moments spring to life.
For instance, if it's Three Little Pigs you have in mind, you could put in little pig figurines or cutouts, small building blocks for the bricks, a few sticks and some hay or shredded paper, woodchips and clumps of grass for the ground. You can even use:
Dollhouse furniture
Lego figures
Farm animals
Soft toys
Finger puppets
Crocheted table mats, coasters
Pebbles and little stones
The choice is endless.
You can bring out your pre-made story boxes to class, and get the children to pick out the one they would like for the day. Once they have chosen a box, you can set the items out on the floor and get the children to choose the props to help you tell the story. This activity is ideal for stimulating imagination and weaving in gross motor play and sensory stimulation to storytelling.
If you would like to add an art and craft element to your story-box,  you could consider crafting the story boxes from shoe boxes, roping in the children to cut and paint the scenes and characters from cardboard. Need some inspiration to get started? Check out the Red Riding Hood story box from EasyPeasy and Fun.
You might also like:
Recent Comments