For all the picky eaters who are happy to survive on chicken nuggets and fish fingers, sensory based-food education could open the doors to a whole new world of healthier food choices (sans the pressure). Sensory-based food education, which has been in use for over three decades in schools and kindergartens in France and other parts of Europe, is now being widely adopted as a curriculum supplement to help children develop healthy dietary choices.
What is sensory-based food education?
Sensory-based food education is a concept that harnesses children's natural curiosity and encourages them to explore food using the five senses of sight, smell, hearing, taste and touch. The method can include a range of food-themed games and books that familiarise them with new fruits, vegetables and regional cuisines as well as involving them in activities such as cooking and growing their own vegetables. The idea is to expose them to a variety of fruits, vegetables and flavours and give them the freedom to experiment and adopt them at their own pace.
A recent study by the University of Eastern Finland suggests sensory-based food education like Sapere can help young children develop a positive association with fruits and vegetables, widen their palate and modify their dietary preferences in a direction that is healthier for them. Dietary preferences learned in early childhood often stays with a person through their adolescence and adulthood and increases the likelihood of them making healthier dietary and consumer choices as adults.
Sensory food education is also found to be especially beneficial for children who are on the autistic spectrum, and prone to disruptive mealtime behaviour.
What is the SAPERE method?
Sapere (which roughly translates to 'to taste and to know') is a sensory training method developed by French Chemist Jaque Puisais to help children improve their sensory awareness, and use the heightened sensory awareness to explore and appreciate a varied diet.
The Sapere method first found its way to the classrooms in France in the 1980s when the Ministry of Education started training teachers to include the programme in their curriculum. The method was later adopted into France's National Dietary Programme and made available to a larger audience to meet popular demand.
According to Roeloff Huurneman, former chairman of Sapere, 'the training helps children become more attentive to their sense and sensations and aware of their choices.' Children sensitized through the Sapere method are better adept at striking a balance between good and healthy food and find pleasure in food rather than eating out of mere necessity, says Huurneman.
Sensory-based food education for preschools and after school clubs
For kindergartens, preschools and afterschool clubs looking for formal training in sensory-based food education, Sapere offers free full-day and half-day training sessions and a kit with a manual and training equipment to deliver lessons in the classroom. The training material consists of ten modules based around taste and the five senses and is linked to various aspects of schooling such as phonics, literacy and geography. The charity currently operates in the UK, Finland, Norway, Sweden, Netherlands, Belgium, Japan and Switzerland. The Sapere website offers details on the training available in different countries.
TastEd
In the UK, the Sapere method is delivered by TastEd, who offer curriculum-oriented lesson plans and tools to encourage children to try out a varied variety of food in a fun and non-judgemental atmosphere. The organisation - founded by headteacher Jason O' Rourke, food writer Bee Wilson and former teacher Abby Scott – is one of the pioneers in the UK to introduce sensory food lessons that can be integrated into the National Curriculum.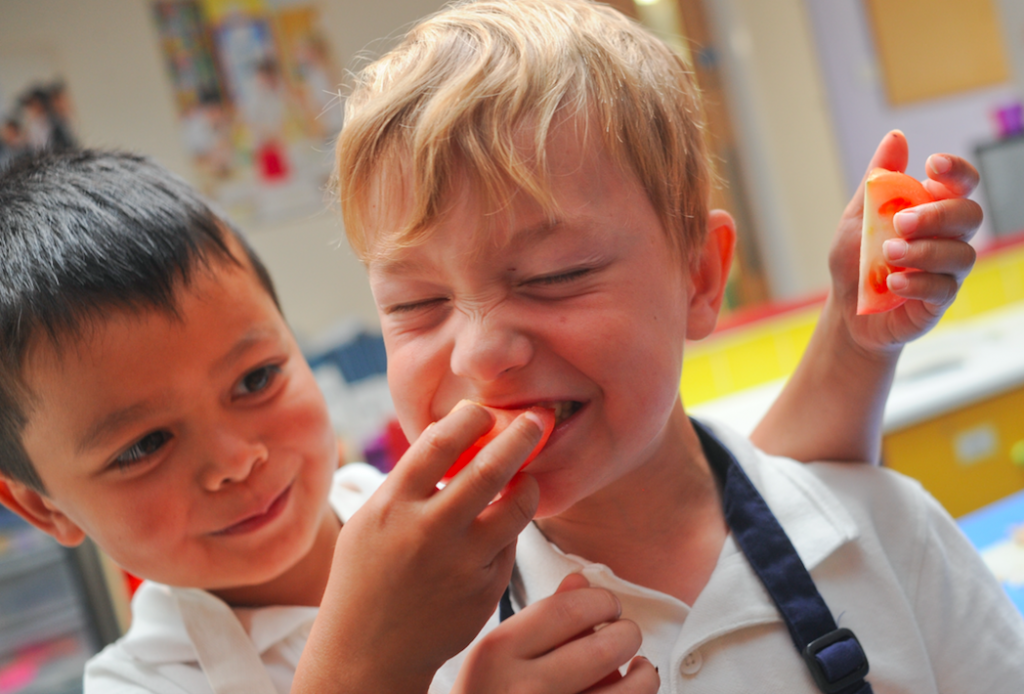 Source: TastEd
They are also currently developing Skype training modules and best practice advice for preschools and after school clubs who would like to access the courses remotely. Check out the video here for a peek into the sensory education programme at Washingborough Academy, Lincolnshire.
You might also like:
5 Great Websites for Healthy Kid-Friendly Recipes
Free Menu and Meal Planner Templates for Nurseries and Preschools
Recent Comments