Ideas never seem enough when you are tasked with keeping the creative young minds engaged all summer. To make your task a tad easier, here's a roundup of some cute craft ideas to try out with your bunch at out of school club.
Summer Craft Ideas for Out of School Clubs
Pebble Craft
From garden markers to book-ends or silly faces to sit on the shelves, pebble craft holds endless possibilities to unleash the children's creativity. At the very basic, you can get the children to use child-friendly washable paints such as gouache to give a base coat of paint and get them to paint on any simple design from an emoji to a simple ladybird. But if you want to up the complexity level and try this with the older children in your group, bring in a hot glue gun, some wiggly eyes, clay and canvas and try out these ideas to take it to the next level.
Painted pebble garden markers
Smirking carrots, smiling strawberries, cheeky cucumbers – the super cute painted garden markers from adventure in a box are perfect souvenirs for the little gardeners to take home for their vegetable patches. Now, if the idea is to display the pebble faces on the shelf, you could consider adding more interest by sticking on wiggly eyes or even making little eyeballs, tufts of hair and bunny teeth out of play dough or clay to give them more character.
Doggy door stopper and Bunny Bookend
Want to take pebble art to the next level? Try the doggy door stopper and lop-eared bunny book-end from Martha Stewart.
As Martha Stewart suggests, cement glue gives the best results when glueing pebbles together. However, make sure it is only done under adult supervision, and in a well-ventilated area.
Pebble art on Canvas
 It's incredible how a few pebbles, twigs, super glue and a canvas or old box frame can make an adorable piece of art. Check out the DIY Pebble art tutorial from How wee learn to help you get started.
Teacup Mini-Garden
Whoever would have thought you can turn a chipped teacup, some pebbles, moss, ferns and bamboo skewers to create this stunning fairy garden.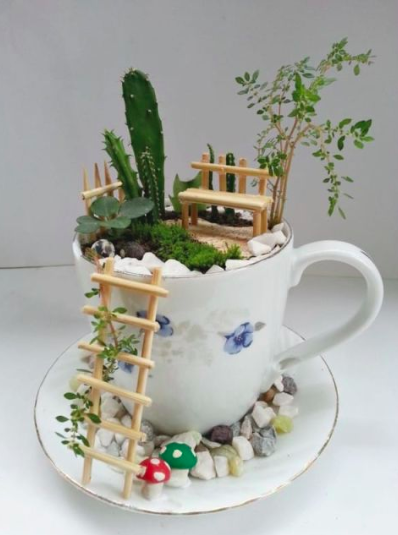 Source: Liitlethings
If you are trying this activity with older children, you could pass them printouts of the teacup mini-garden, and a general outline of the activity. Get them to collect their own materials if you have scheduled any nature walks for the day, and encourage them to add their unique twists with little wildflowers, shells or braided straws, for instance. Check out littlethings.com for a step-by-step tutorial.
Minion Finger Puppets
The no-sew minion finger puppets from Sustainmycrafthabit is deceptively simple, and a lot of fun.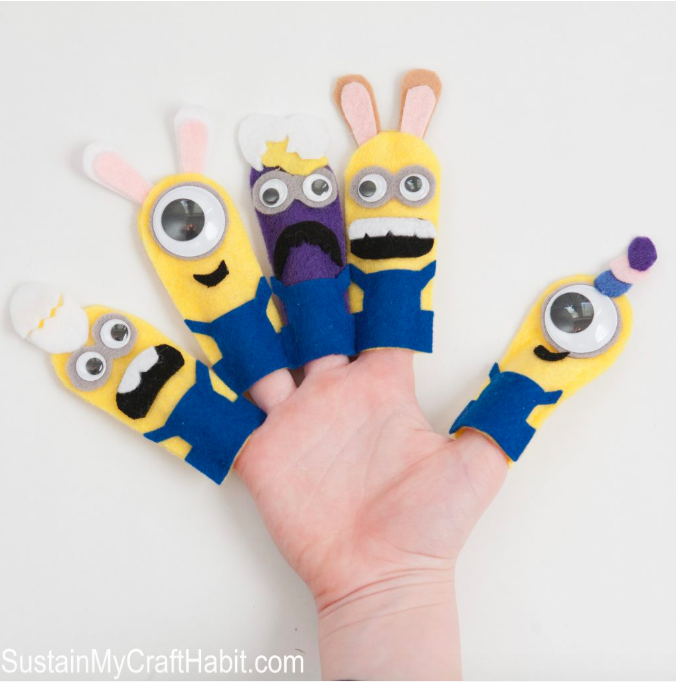 Check out their blog for a detailed guide and some cool printable templates.
Strawberry Roses
The best thing about the strawberry roses are, they do not require a high level of skill but give you remarkable results. However, make sure the kids try this only under adult supervision.
Things you will need:
Large strawberries
Forks
Child-friendly knives
Bamboo skewers
Tall glass/vase
How to go about it:
Wash and dry the strawberries. Push a fork into the base of the strawberry and hold the berry upright. Make a horizontal slat at the bottom of the fruit and push it back gently with the knife to make the first petal. Go around the berry to cut out the first tier of petals. Continue by making the second tier by cutting a row on top. Remember to alternate the spacing with the bottom layer, and continue till you reach the top. Add a shallow downward slice at the top to create the look of small petals at the tip. Remove the fork and insert a bamboo skewer for the stalk. Place the strawberries in a vase or a tall glass and voila, and the strawberry bouquet is ready.
You might also like:
Five fun STEM activities for Out of School Clubs
Recent Comments