Here's a look at a few great apps that will make life easier for busy working parents:
When the mention of tidy-up time suddenly brings on the yawns, the chore monster app could be just the thing that can come to your rescue. The app lets you make a list of chores for the kids, and the kids have a separate log-in to see what's assigned to them. They can tick the chores off and earn points. And, you can add rewards like ice cream or an hour of Xbox time, which the kids can 'buy' from you with the points they accumulate over time.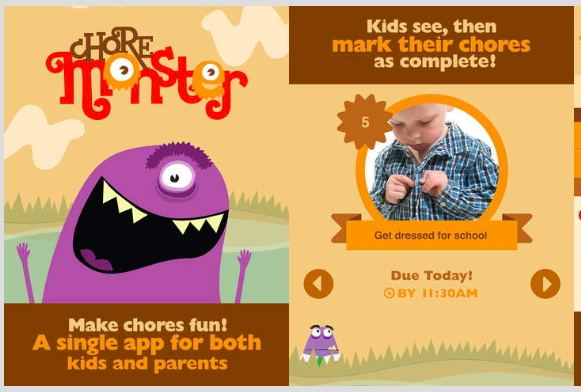 As much as we all fret about unlimited screen time, nothing's quite as convenient as letting the little monsters replay Blippi or yet another unboxing video, as we rush off to, well, reply to the last email for the day. However, with an app like FamilyTime, you can set a digital leash on the kids' online activity, block apps and regulate the content that is dished out to them.
The app also has some great security features such as geofencing to help make sure older kids don't sneak off to restricted places. You can define locations or addresses and create geofences, and you will get alerted every time they enter or leave a geo-fenced area.
Trekaroo is a useful locator app to search for playgrounds, kids friendly activities, restaurants and hotels near you. You can sift through reviews and ratings from other busy parents and make bookings on the go.
BPMe
BPMe is another one of those simple apps that can make your life a lot easier. No more relying on your partner to re-fuel your car or worrying about leaving your screaming/sleeping little one in the car as you go in to pay. You can conveniently pay for your fuel without leaving the car. Although the app does have the odd bug when it comes to claiming rewards, it's a lifesaver for the times when you don't have the time and the energy to trudge past petrol pumps and moving cars with sulking toddlers in tow.
For all the parents who struggle to find the space for another heap of cute scribblings, but don't have the heart to toss them in the bin – Keepy is a handy app to have. You can take pictures of your kids' artwork, upload them all to one place and share them with friends and family. Multiple timeline streams will allow you to keep each child's work separate. And you can make in-app purchases, order prints, mugs or memorabilia of, erm, the extra-special sketches of trucks and police cars.
Struggling to keep track of the logins for your umpteen accounts? 1Password is the perfect solution to create and store secure long-string passwords for all your online accounts. All you need to remember is a 'master password' to access your digital vaults. And every time, you log in to an account you will be prompted to sign in with 1Password. Enter your master password and the login fields will be auto-filled for you to sign in with a single click!
Now, we didn't want to include our app in the list as we don't want to sound biased. But if your children attend after-school club, nursery or the childminder's, Cheqdin is a great app to get a glimpse of your little one's day, make ad-hoc bookings and keep track of all the communication from your childcare provider. However, your childcare provider will need to be signed up for Cheqdin for you to access the free app. So, if your centre is not using Cheqdin yet, don't forget to send them an invite to try Cheqdin for free. You can download our free invitation here.
You might also like:
Advent Activities for Pre-schoolers >View Article
Get the kids outdoors with Geocaching >View Article
Recent Comments