August has been one incredible month for the Cheqdin family. We launched two of our much-awaited modules - Direct Debit and Rules-Based Invoicing and added a whole new set of embellishments to existing features.
Direct Debit and Rules-Based Invoicing from Cheqdin
At Cheqdin, we're focused on developing the most relevant tools to help our customers spend the minimum possible time on administrative and financial management. This means constantly innovating to bring in a diverse set of tools and capabilities to let you automate repetitive work and minimise the number of steps involved in each administrative function.
The launch of our direct debit service and rules-based invoicing are proof points of our commitment towards this goal.
Our direct debit system is one of the first in the industry to meet the specific payment requirements of nurseries and out-of-school programs. We joined hands with UK's leading direct debit providers, GoCardless to develop a system that is exclusively tailored to accommodate your varying booking patterns and billing cycles. Our new system will let you automate your payment collection, track funds and reconcile payments automatically.
Similarly, if you have been spending hours (or days) on invoicing, our rules-based invoicing is a handy new feature that will help you create batches of invoices within minutes, based on the rules you set in your system.
Now, that's not all.
We've also added some advanced capabilities to billing and invoicing to bring down the time you spend in rummaging through payment records:
A quick view of reminder-sent dates
To save you the trouble of drilling down the pages to find the dates of sent reminders, our 'send reminder' function now captures the information and conveniently displays the dates in the 'Sent Invoices' section of your billing dashboard.

Summary of how an invoice was settled
Need a quick look at how little Hannah's invoice was settled in July? Just head to the 'Payment History' on your dashboard for a complete payment summary.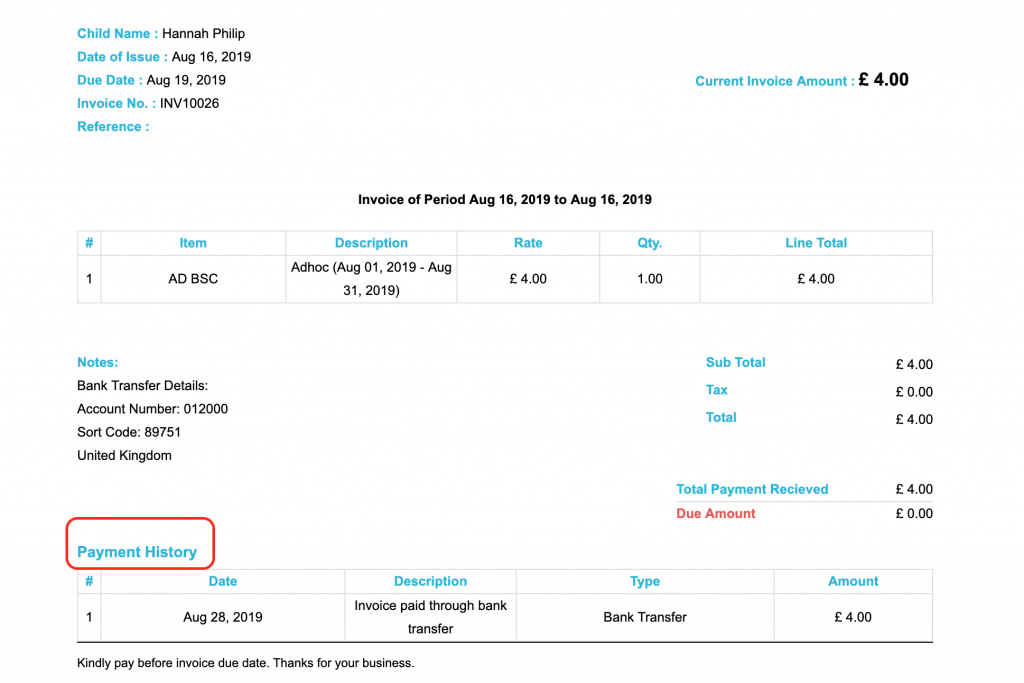 Credit notes
In case you wish to settle the remaining balance of a partially paid invoice, you can now issue a credit note using the 'apply credit note' feature on your billing dashboard. And, if there is a dispute or you would like to cancel a sent invoice, all you need to do is use the 'cancel invoice' option.
All the above changes are now live on the dashboard and accompanied by a full set of instructions in the help centre. For new customers who would like to learn more about accepting payments via Cheqdin's direct debit, please visit our direct debit page or contact us directly for more details.
Now, before we wind up, let's not forget our customary round-up of news stories from across the industry. Here's a quick look at what's been happening in the sector this month.
Industry News
Ofsted dispels myth surrounding 'intent' in New Inspection Framework
Following the announcement of Ofsted's New Inspection Framework, speculations have been rife about the meaning of 'intent' outlined in the Quality of Education judgement. Ofsted endeavours to simplify the concept and clarify what intent is all about in the new myth buster. Read more
Leaked plans to cut teaching assistants slammed by early years unions
Leaked papers on the Government's education policy plans reveal a possible slash in the number of teaching assistants in schools at a time when schools have already reduced staffing due to real-term cuts. Unions have condemned the controversial plan revealed in The Guardian's report about the policy briefing document. Read more
Childcare Voucher Survey reveals the real impact of scheme closure
A survey conducted by the Childcare Voucher Association Providers reveals the true negative impact the scheme closure has had on parents and childcare providers. The replacement of the scheme with Tax-Free Childcare has left nearly 50% of nurseries with increased administrative burden, while more than 60% of the parents find the system confusing and riddled with technical glitches. Read more
Lack of sleep more harmful to children than social media use, says study
The lack of sleep could be more detrimental to the mental health of children than the use of social media, says a new study by the Great Ormond Street Institute of Child Health. Although the frequent use of social media is linked to poor mental health, the effects are not direct. According to the researchers, what could have a more serious impact is the sleep deprivation that results from extended use of social media. Read more
Early Years Sector Pays Tribute to Renowned Educator Vivian Paley
Vivian Gussin Paley, a pioneering early years educator, story-teller and acclaimed American author, passed away at the age of 90. She is a patron of the British charity, Make Believe Arts, and is the inspiration behind the Helicopter stories approach. Read more
You Might Also Like:
Cheqdin launches UK's first fully-automated direct debit for childcare providers  >View Article
How can Direct Debit make a difference for after school clubs?  >View Article
Recent Comments