At Cheqdin, our goal is to provide a powerful platform for after-school clubs and childcare providers to manage the core administrative functions of their business effortlessly. Here is a look at some of the frequently asked questions about Cheqdin's after school club management system and what makes us different from other software solutions.
1. We invoice parents in advance for contract sessions and include any applicable ad-hoc sessions, late fees/discounts or optional extras availed the previous month. How does your invoicing system configure the fee calculation for each child?
Cheqdin allows you to input multiple sessions and different pricing plans/fees, during your initial set up. Once that's complete, you can use our 'Rules-Based Invoicing' tool to instruct the system to create batches of invoices based on a set of criteria you specify.
For instance, if you are looking at creating monthly invoices for August and want to include ad-hoc sessions for July, plus, let's say a 'book fees' of £5 you can create a rule and select the children you want to apply it to. The invoices will be generated automatically and stored in your drafts folder for review.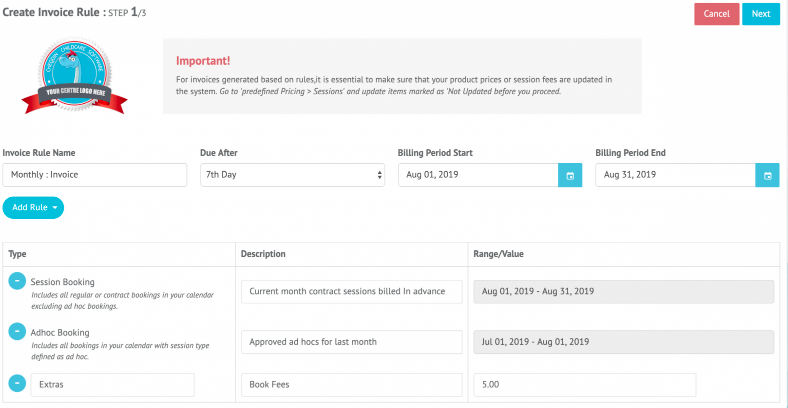 You can save and re-run the rule for future invoicing. And yes, you have the flexibility to create different rules based on the unique billing pattern used at your centre (weekly/fortnightly/monthly/termly/immediately for ad-hoc etc.) Check out our post on rules-based invoicing for more details.
2. Does Cheqdin provide the option to part pay invoices?
Yes. If your customers are signed up for Cheqdin's direct debit, the invoices will have a  'pay now' option which will give them the option to specify the amount that is to be deducted as direct debit and settle the remaining invoice amount using alternate payment methods. If the customers choose not to use the 'pay now' option, the entire invoice amount will be deducted from their account on the invoice due date.
We are also bringing in the capability for online card payments with our new release, which will give you further flexibility to accept full or part-payments online.
3. Do I have the option to share monthly reports with our accounts department?
With role access management built into Cheqdin, you can provide access to your Accounts departments to pull out all billing-related information including an  'All transactions summary'. You also have the option to filter reports between date ranges, generate reports for all children or individually and share reports.
4. How is daily attendance recorded in your system?
Cheqdin provides a paperless system to record daily attendance. Our system auto-fetches the booking details from your bookings calendar and syncs it with your sign-in-sheets – giving you a full list of children expected for the day.
Your staff can access these auto-populated sign-in sheets on your centre's tablets or smartphones. They can then use the bulk sign-in option to mark the attendance of each child electronically or let parents sign their children in with digital signatures. The parents will also receive a notification every time a child is signed in or out from your centre.
Moreover, our smart dashboard will also let you monitor attendance remotely, and view the children who are currently signed-in at your centre.
5. Do I have the option to see the number of sessions a child has attended?
We have an intelligent bookings calendar linked to each child's profile which gives you details on the sessions of the child. In addition to this, you can retrieve attendance and absentee reports and filter out records for a specific date range.
 6. Do you have any attendance forecasting feature to help us plan our staff levels?
 We do. Our 'sessions summary' will give you a comprehensive view of the children that are booked in for future sessions.
7. How is staff attendance recorded?
We have a staff sign-out feature where staff can use secure PIN numbers to sign them in or out quickly. This captures information with a date and time stamp letting you know staff attendance history. This would prove helpful for payroll purposes.
8. Is your system GDPR compliant?
We are an enterprise solution supporting thousands of childcare providers worldwide. So yes, we are fully compliant.
9. Does your system provide the capability for online registration?
Our current system does not offer online registrations. However, we are releasing our new version, Cheqdin 2.0 in early 2020 which will come with a revolutionary online registration feature.
Once the feature is live, you will be able to receive online registrations, manage enrolment pipelines and waiting lists through our portal. You can also give parents a unique user account and access to upload supporting documents, edit submitted documents and update their contact details - in line with regulatory requirements.
10. Why Cheqdin?
Cheqdin is the only subscription-based after school club management system that offers a full range of administrative features that's generally seen in expensive in-house software systems.
Our after school club software is specifically designed to accommodate the unique booking patterns and multi-tier fee structures of out of school care providers. Each centre can set up their system based on their unique booking patterns, fee structures and payment collection choices.
Moreover, with a full suite of new centre management features, our new version,  Cheqdin 2.0, will be a gamechanger for after school clubs and activity centres. Here's a look at some of the major features you will get as part of your Cheqdin subscription:
eRegistrations

Online booking

Auto-populated daily registers

Billing, invoicing and payment reconciliation

Integrated online payment options such as card payments and direct debit

Premium parent engagement features such as an app, messenger and parent's portal to make and keep track of their bookings and payments
And, that's not all. You can sign up free and have unlimited free access to every single one of our features - for 25 children.
Interested to know more? Please feel free to book a demo with our product expert for more details or sign up here to try Cheqdin for free.
You might also like:
How to accept online payments for your childcare business  >View Article
Is Cheqdin' Direct Debit right for you?  >View Article
Recent Comments