A few spreadsheets and colour-coded folders are about all you need to keep track of your financial data when you start off as a small childcare centre. But as your business grows, you'll find this system becoming more complicated, time-consuming and error-prone. This is when a scalable childcare accounting software can make a difference.
Accounting software helps you automate and streamline most of your accounting functionalities. It removes the need for repetitive data-entry and allows you to manage everything from invoicing and payment collection to reporting and payment reconciliation - using a single platform.
Here's a look at some of the areas where a childcare accounting software can help you with.
1.Billing and Invoicing
With the inherent variability in booking patterns, invoicing for early years and after-school care is a tedious and time-consuming process.  Add to it the difficulties of tracking and following up pending payments, manual invoicing can turn out to be a highly inefficient routine for growing businesses.
Accounting software can cut down the manual work involved in generating, sending, and chasing up your invoices. For example, Cheqdin, allows you to set up custom criteria to automatically generate invoices on a set date. You can create recurring as well as one-off invoices and schedule them to be sent off with a single click - after your approval.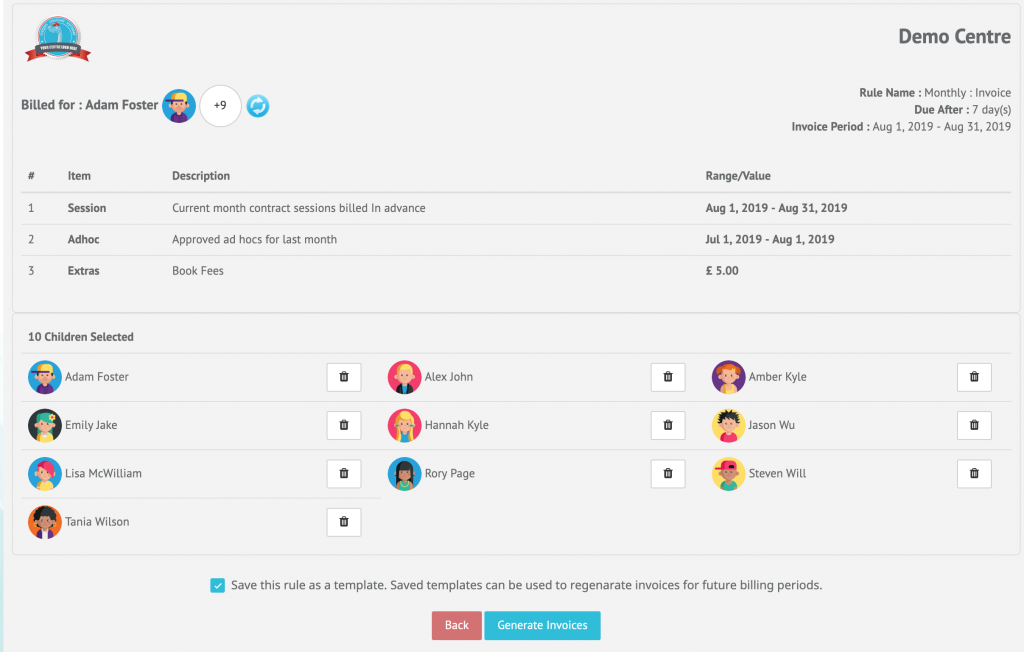 You can also use the system to set up payment reminders, track unpaid invoices and chase up pending payments without delay.
 2. Payment Collection
Accounting software provides integrated online payment gateways to allow your clients to pay you swiftly and securely. Depending on the options offered by your provider, you can get your customers to pay you by direct debit,  debit /credit cards as well as childcare vouchers.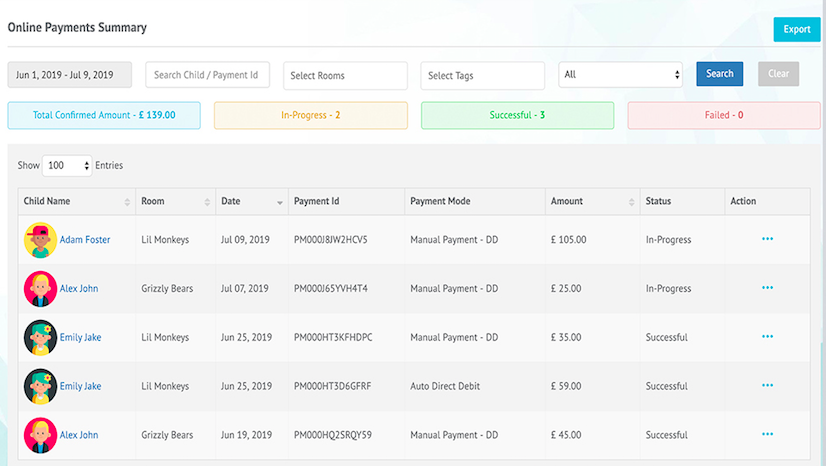 The payment gateways automatically record the online payments you receive and update them under the corresponding invoice on your invoicing system. You can manually update the system when you collect any payments using offline methods such as cash or cheques.
3. Reconciliation
Payment reconciliation is another tedious business function that accounting software can conveniently put on auto-pilot. The software simplifies the entire process by fetching updates on payment transactions from your bank feeds automatically and matching it with your invoices.

You will also have other vital information such as your open balance and the status of each online payments automatically updated on your billing dashboard.
 4. Reports and Timesheets
Besides supporting your primary accounting functions, childcare software Cheqdin also captures your bookings calendar, registration details and the log-in-out times of the children and staff at your setting.  This allows you to streamline all the core management functions of your business using a single tool. Plus, you can keep all your critical records in one place, cut down repetitive data-entry and paperwork, and prevent data loss due to missing or damaged documents.
 Interested in finding out how Cheqdin can help your childcare centre? Sign up for a free trial or get in touch with our product expert to find out more.
You Might Also Like:
Is Paperless Direct Debit Worth the Switch?  >View Article
Automating Nursery Fee Collection: What Are Your Options?  >View Article
Recent Comments