From grabbing the fleeting attention of the parent searching online for an after-school program to convincing the sceptical local school authorities to let you distribute the fliers, you will need to pull out all your stops when marketing your out of school club to get the enrolments rolling.
Here are a few marketing tips to promote your after-school care and attract more sign-ups.
1. Create a Website and Optimize it.
A good website is one of the absolute fundamentals to modern-day marketing. Your website is your shop window and often the first touchpoint for prospective customers to find out more about your services, get your contact details and engage with your business. A cheerful website that is easy to navigate and clearly communicates the details of your club and all its activities is a great starting point to attract your customers' attention.
But, remember that's just the first rung on the ladder.
One of the biggest hurdles is to optimise your website for search engines so that it turns up at the top of the search results when people look online for afterschool clubs in your area. Search Engine Optimization (SEO) is an extensive task and would require an ongoing commitment from your part - if hiring an SEO consultant or agency is not on the cards.
SEO involves a range of technical as well as creative elements, and if you are up for some DIY, there are plenty of useful online resources which can guide you through each step of optimising your website.
2. Get your After-School Club listed with Google My Businesses
Getting your club listed on Google My Businesses (GMB) is another important step that can increase your chances of showing up on Google maps, allow your customers to find you easily as well as improve your visibility in the search engine results page.
The listing is free. You can include all the information about your club such as your address, phone number, the link to your website, business hours and even the types of payment accepted. Plus, you can easily do it yourself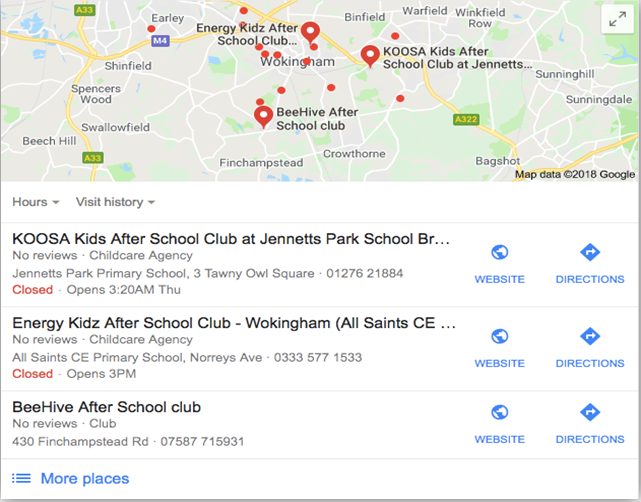 However, if you do not own the property and are renting or using shared premises for your club, there are certain criteria you will need to fulfil to qualify, like having a permanent signage of your business posted outside the property. You can check here to see if your business qualifies, and if you do, just go on to https://www.google.com/business and get started right away.
3. List your Club with Local Directories and Childcare Listing Websites
Getting your after-school club listed on childcare listing websites, local directories and information guides is another simple step that will help you generate more leads. It can again help you improve the search engine rankings of your website as you are generating more credibility for your website by getting backlinks from other credible sources related to your industry.
4. Make the most of Social Media
Creating social media accounts for your club is ideal to engage with both your current and prospective customers and the perfect free platform to make announcements and improve your visibility to your audience.
Are you using an online booking system for your club or planning to introduce a free parent app to engage with the parents? Showcase it. Don't be shy to highlight what sets you apart and encourage your customers to get on-board by posting the links to your bookings page or app.
5. Approach your Local Schools
The most obvious marketing step to take when starting an after-school club is to speak to the local schools and distribute fliers to the students and parents.
Though many schools may be happy for you to do that, the most you might be able to extract from the meetings with some of the schools would be a stub of paper with an email id scribbled on it. Don't be surprised if it leads you to a dead end unless you are a charity or not-for-profit organisation or planning to operate the club out of the school premises. But remember, if you don't ask, you don't get.
Do not restrict your marketing to distributing fliers. Consider all the options such as:
• Advertisements on the school prospectus, website or newsletter
• A stand at the school fair or parent's evening
• An opportunity to introduce the club at one of the school parent-teacher meetings/assembly and distribute fliers in return for a discounted membership
6. Consider a Referral Program for Existing Customers
Should your budget permit it, consider a referral program where you can offer a small discount to registered parents for referring friends to your club.
7. Display fliers on noticeboards of Toddler groups, Local Community Centres and Supermarkets
Display fliers in places that parents with young children are likely to frequent. From the bulletin boards in your local baby and toddler groups to the community centres, churches and local markets – make sure you tap into each of the avenues where a potential customer is likely to find you.
Who we are?
Cheqdin is a revolutionary after school club management system for online registrations, booking,
daily registers, parent communication and payment processing.
Get unlimited free access for 15 children
Recent Comments