Here is a look at all the important paperwork you'd need if you are setting up an after school club.
Children's Records
 1. Registration Forms
For each child in your care, you are legally obliged to have a record of the following details:
Full name

Date of birth

Name and address of parents/carers

Details of primary carer (the parent/child the child stays with currently)

Emergency contact details
2. Consent Forms
All providers must seek consent from parents/carers to take photographs or videos of the children and use them on different media at your setting. The consent form should clearly state the purposes the photographs will be used for. For example, some parents may be happy for you to display their child's photo on your centre's notice board, but not on your marketing brochures, website or social media. So make sure, you list out the purposes the photographs might be used for and seek explicit content for each.  You should also seek further consent for sharing the child's photographs with any external agencies such as regulatory authorities or schools.
Similarly, remember to get consent for activities within your club such as face/nail painting etc. Even if a child expresses interest in taking part in any of these activities, they might not fully understand what is involved. It is the centre's responsibility to make sure they have prior consent from each child's parents/carers.
3. Daily Registers
A daily record of the names of each child looked after at your setting, their hours of attendance and details of their key persons.
4. Accident reports
Forms detailing any accidents or incidents the children were involved in when they were in your care and the first aid given.
5. Medication records
A record of all medicines administered to children when in your care
6. Complaints records
Form capturing the complaints received from parents and how they were dealt with
Feel free to download our free Word templates for all the above or go paperless with Cheqdin's free online registration & consent forms, daily registers and reports.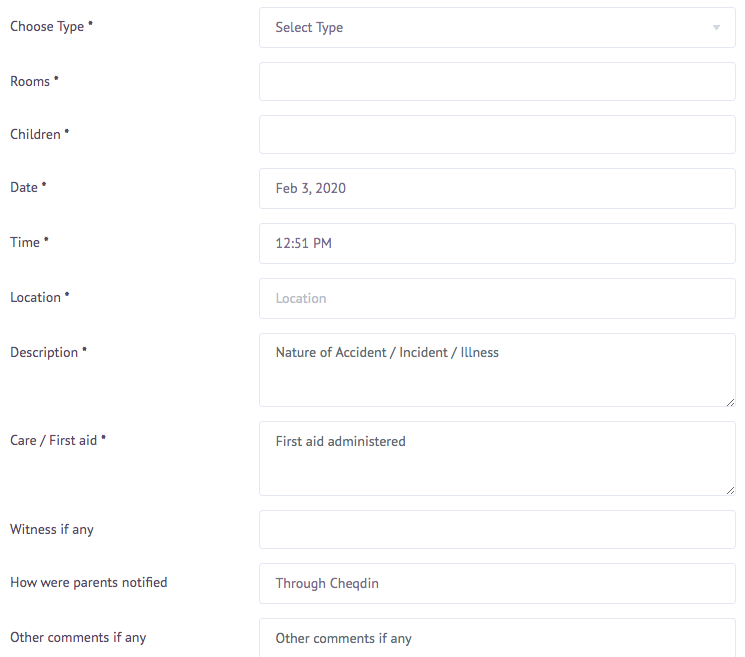 Online Accident Report from Cheqdin
 Staff Records
Name, address and telephone number of the provider, employees or any other persons living on the premises
Name, address and phone number of anyone who will be in unsupervised contact with children who are registered in your early years provision
Record of successful Disclosure and Barring Service (DBS) checks for people who may have unsupervised contact with children
Policies, Procedures and Handbooks 
Mandatory policies and procedures required under EYFS:
Administering Medication Policy

Complaints Policy

Emergency Evacuation Procedure

Missing Child Policy

Safeguarding Policy

Staff Behaviour Policy

Uncollected Child Policy
Policies required under other legal regulations:
Equalities Policy

EYFS Policy

Health and Safety Policy

Visitors Policy

Social Media Policy

Privacy Policy

GDPR Compliant Policies
Parents handbook
A document outlining the rules, policies and procedures that the parents should be aware of.
Staff induction pack
Create and document the procedure you plan to follow for the safe recruitment of employees. Make sure you include all necessary information about the induction, appraisals and training you will provide.
Check out OOSA (Out of School Alliance) for comprehensive downloadable packs of all the essential handbooks, policies and procedures.
Who We Are
Cheqdin is one of the global industry leaders in after school club software and apps.  Our solution provides a full range of club management features starting from online registrations, daily registers, online bookings and payment collection to a free parent app – all as part of a convenient monthly/annual subscription pack.
 You might also like:
Is subscription or In-house software the better option for after school clubs?> View Article
Choosing the right business structure for out of school clubs?  View Article
Recent Comments