Asking for payments is never easy. But when you have a business to run and bills to pay, you can't be left out of pocket for long. Here is a look at some of the best practices to speed up your payment collection and improve cash flow.
Create a plan for repeat offenders
Many parents who pay by childcare vouchers could be unwitting delaying your payments just because they are unaware of the processing delay involved. Even if they initiate the voucher payments on the agreed payment date of, say, the 1st of every month, it could be a few days or even weeks before you receive the funds in your account. Make sure you bring up the issue with them and ask them to ensure their voucher accounts are always in credit and to ensure the vouchers are put through before the 1st of the month.
Similarly, when it comes to parents who end up late repeatedly because of busy work schedules, direct debit could be the best way forward. As the invoiced amount will be automatically deducted from their account on the due date, they won't have to worry about having to push out payments each time. You can invoice the parents in advance and automatically deduct recurring or variable amounts on the invoice due date.
Make paying easy
Restrictive payment methods - such as accepting cash, cheques alone – is another one of the major factors preventing the payments from making it to your account on time. Providing online payment options can give parents the flexibility to pay quickly from their phone or from work, (without having to worry about taking out the cash or dashing to the reception to make the payment in the middle of the mad rush at drop-off).
However, setting up online payment gateways and roping in the necessary technical support to maintain the system might seem might be an expensive lot to implement, if you are doing it in-house. With Cheqdin, you can easily collect, track and reconcile payments at an affordable subscription rate, and invoice the parents directly from the system.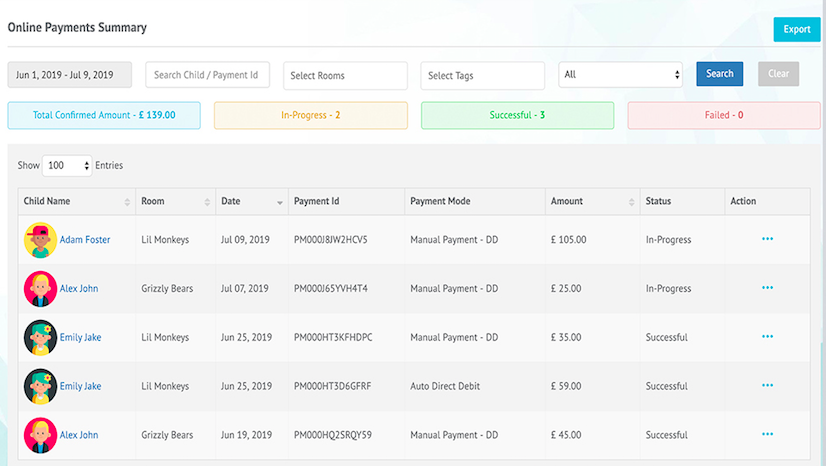 Enforce your rules...consistently
Rules and penalties are crucial in persuading your customers to make their payments on time. Although it might sometimes become inevitable to relax the rules when you see a parent struggling to pay their bill, make sure you do not do that all too often. Some customers may abuse the goodwill gesture and make it difficult for you to regain control at a later point. Make sure you lay out the payment terms clearly in your parent handbook/contract and set the rules and expectations right from the start.
Don't forget the human touch
Now, no matter how efficient your payment collection machinery is, nothing can replace the good old fashioned human touch that you bring to your business relationships. If you are the owner or the manager, do not remain the anonymous name in the newsletter and email signature. Make sure you take the time to build a personal relationship with the parents and try to be around during pick-ups and drop-offs (at least occasionally). Bringing up any communication related to payments becomes easier, swift and more productive when you have a positive relationship with the parents.
Interested in finding out how Cheqdin can help you collect your payments faster? Get in touch with our product expert for a free demo or sign up free to find out how it all works.
You might also like:
How do you automate your nursery fee collection?  >View Article
How to encourage parents to pay you by direct debit  >View Article
Recent Comments