Cheqdin's direct debit lets you automate your payment collection and improve your cash flow. Now, is it the right choice for your childcare business?
Here are a few questions to ask yourself:
How long do you spend chasing payments each month?
If it's more than 2-3 hours, Cheqdin's direct debit can make a difference. Once your customer provides an initial authorisation (direct debit mandate), your fees are automatically taken from their account on the invoice due date. This eliminates the need for your customer to initiate the payments each time.
How many customers do you have?
If you have less than 25 children at your setting and you charge them the same amount each month, you have the option to choose between direct debit or standing orders. Standing orders are free of charge and set up directly by your customers through their banks. However, it is not ideal if you have more than 25 customers, and if you do not follow a recurring billing pattern.
Cheqdin's direct debit is suitable for nurseries and out-of-school clubs of all sizes. It is a good fit if you are looking at collecting recurring, variable and one-off payments. All you need to do is inform your customers in advance by sending them an invoice 7-10 days before a payment is due.
Do you prefer to give multiple payment options such as childcare vouchers to parents?
If you prefer to give parents the flexibility to make part of their payments using childcare vouchers and other offline methods, Cheqdin's direct debit can help you do that, while allowing you to retain control of your payments.
Cheqdin's unique system lets you alert your customers of an upcoming direct debit payment with a customised email and invoice. Your customer will have the option to click on the 'Pay Now' link in the email and choose the amount they wish to pay by alternate payment methods. The remaining amount will then be automatically taken from their account on the invoice due date.
That's not all. The progress of each transaction, as well as the amount credited, will be updated immediately on your billing dashboard.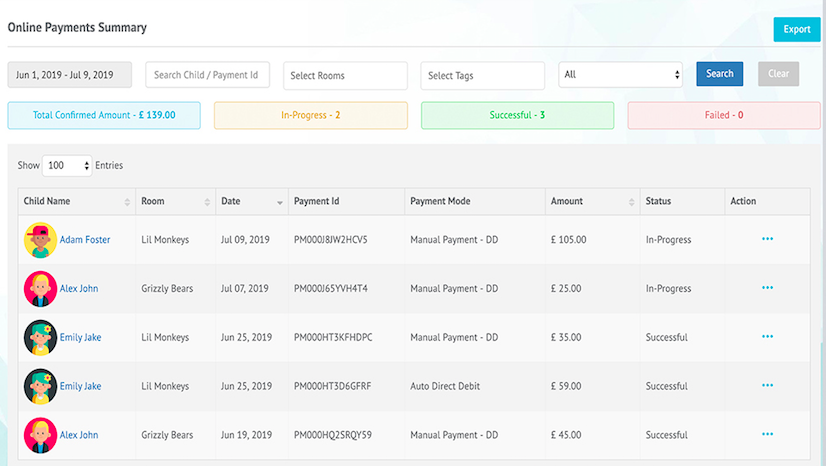 Now, if the customer does not use the 'pay now' option, the full invoice amount will be collected from their account on the invoice date.
Do you struggle with payment reconciliation?
As Cheqdin's direct debit is tied to a powerful invoicing system, it automatically captures all online payment updates and matches each transaction with the relevant invoice number, payment dates as well as invoice-sent dates.

When it comes to offline payments, you have the option to manually key in any cash, cheque payments/ bank transfers/voucher payments against each child's profile. You will get a full low-down of all transactions on your billing dashboard, complete with each child's open balance and payment history.  So, if you find yourself spending long hours on payment reconciliation, Cheqdin can help you keep track of all your online and offline payments and help you stay audit-ready with minimal effort.
Any more questions, please feel free to get in touch with our friendly team for a quick demo or try out Cheqdin with a 7-day free trial. You can also find more information about Cheqdin's direct debit on our direct debits page.
You Might Also Like:
How to create a successful pre-school branding strategy?  >View Article
How can direct debit make a difference for after-school clubs?  >View Article
Recent Comments