If you are vetting direct debit providers to collect payments for your childcare business, here are a few questions you should ask yourself to make sure you get the best deal.
1. How much does it cost in total?
Most childcare direct debit services come as part of a childcare management software package with multiple administrative features. The providers charge you a monthly/annual/volume-based fee for the entire package plus a small fee per transaction for direct debit.
The transaction fees generally range between 1-1.5% for each successful transaction. But some providers offer a fixed fee per transaction and charge you for:
Initial set-up

Failed payments

Payment cancellations

Reporting

Payment Reconciliation
Make sure you confirm what features are covered under your plan as the extra charges can add up quickly and rack up your monthly costs.
2. How easy is it to add new customers?
As you would be pulling out payments from your customer's account every time a payment is due, you would need an initial authorisation from your customers to get them started with direct debit. The authorisation is generally taken via direct debit forms or mandates which can be collected from your customers in person, online or over the phone.
Having the option to collect the authorisations online can help you avoid the hassle of chasing up customers to return the forms and can bring down delays in getting started with payment collection.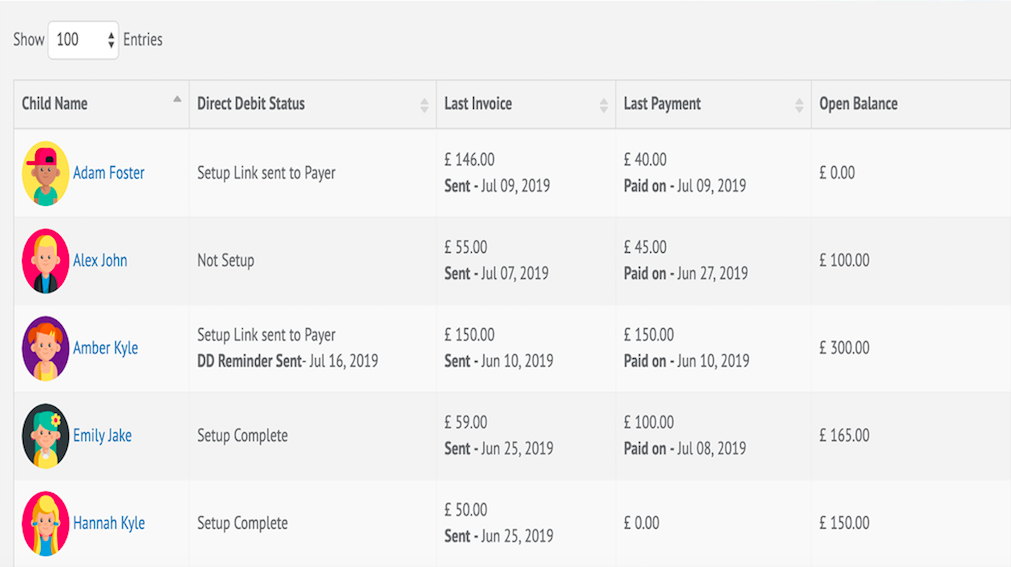 Cheqdin allows you to send online direct debit forms to your customers and lets you track the status of the set-up process through your billing dashboard.
3. Can you take recurring, ad hoc and variable payments?
Although the monthly pre-school fees for each child remains more or less the same each month, you are likely to charge variable amounts and collect one-off payments frequently if you provide after-school sessions or take ad hoc bookings. Contrary to common perception, direct debit allows you to collect recurring, one-off and variable payments.
However, make sure you take a demo with the provider to find out how easy it is to set up and amend variable payment plans on their system. Will you have to contact the provider each time you need to charge a variable amount? Are there any limits or restrictions on the amounts you can collect? Are there additional charges for changing the amount in a customer's payment plan?
Find out how Cheqdin's direct debit can help you collect ad-hoc and variable payments.
4. What currencies do they accept?
Many childcare direct debit providers now offer their service as part of cloud-based subscription packages that are accessible for customers from across the world. However, as the direct debit in each country is operated by different schemes, such as Bacs in the UK, ACH Debit in the US and SEPA in the Eurozone, make sure the provider supports the currency and direct debit system in your country or region.
5. Does the system provide automatic reconciliation?
 Do you get automatic updates about the status of each transaction or would you need to cross-check your bank statements with your payment records to find out of what payments have come in? Cheqdin allows you to track your payments and gives you real-time payment updates on your billing dashboard.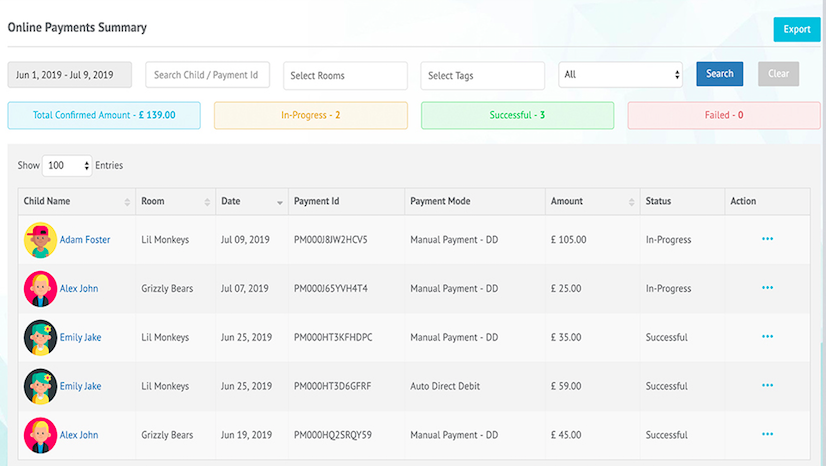 You will also get a status update for each payment as the transaction progresses, giving you the time to resolve any payment issues promptly.
Cheqdin's childcare direct debit comes inclusive of free automated reconciliation and tracking features with no hidden charges or extras. Check out our direct debit page for more details or get in touch with our product expert to schedule a free demo.
You might also like:
Automating Nursery Fee Collection: What are your options?  >View Article
Know Your Invoices  > View Article
Recent Comments