What does our new Cheqdin platform hold for you? Simply put, it will save you tons of time and give you access to some fabulous management features (the kind you normally find in the super expensive in-house solutions).
These new improvements are meant to get your business not only running smoothly but growing quickly too.
Let's see how.
A one-of-its-kind online registration platform
How convenient would it be if your customers could submit their registration forms online and the details (from the accepted forms) flowed straight into your children's register?
Cheqdin's online registration does all that for you, and quite a bit more.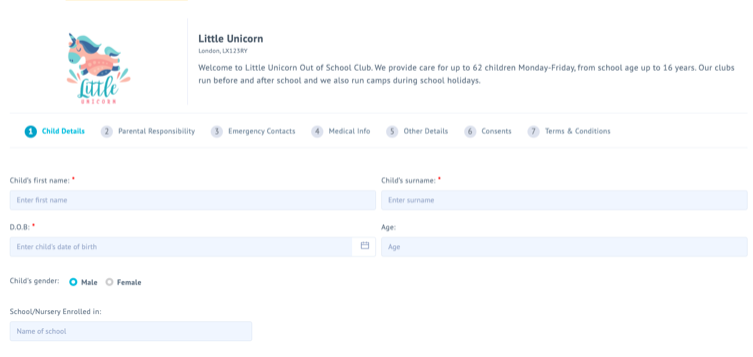 Here's how the whole thing works:
Sign up for a free Cheqdin account (if you are a new user). All our existing customers can log in to their old accounts to receive direct access to this new feature.
Create your own registration and consent form from our customisable template.
Add your logo, branding and add/delete fields to make it your own.
Share the form as a link through email, text message or social media.
Embed the form as a 'Register Now' button on your website, if you want to route your customers to register directly through your site. In case you are wondering about the technical expertise you'd need to do that, we assure you it's 'basic'. We've added some super-easy instructions to help you every step of the way.
As for the parents, they can fill in the forms (via any of the platforms you share it on), add their digital signature and hit 'submit'. You'll get notified every time a new submission comes in.
If you need any edits (or the periodic re-submissions for compliance), just 'unlock' the forms and invite the parent to update them online. Simple!
Now,  that's not all. You will also have an easy-to-use dashboard that'll give you full control over your registration pipeline  – your enquiries, waiting lists and enrolments. You can filter out applications, send messages to parents and get them to share attachments or supporting documents through a built-in messenger.
Bonus: Sounds great, but already using another childcare software? Not to worry. You can still use Cheqdin for your online registrations alone! Our registration is a stand-alone feature, which means you can use it alongside other childcare management software or school management systems without any integration or complicated setup.  You can get it up and running in under 10 minutes!
Online bookings and payments – with all the flexibility you can ask for
Another one of our star features is the new online bookings. We'd say it's like the little elf that'll be hard at work for you even when the haggard you head off to bed.
It will quietly analyse your bookings calendar and update vacant spaces on your platform – after it runs through the 'maximum capacity', 'staff to children ratio' and the staff availability you've set for each room.
Now, how do your customers get to book these spaces online?
Well, your online bookings platform works pretty much the same way as your ' online registrations'. You can generate a custom link for your 'bookings platform' during your software set up, and:
Add it to your website as a 'Book now' button

Pin it on your social media or

Share it directly with your customers via email or text message
You can add in the payment options you want (during set up) and even create your own buttons to display on the check-out page of your booking form - 'Pay later', 'Pay Now', 'Pay by childcare vouchers', 'Pay by card', 'Pay by cash'. You even get to select when you want to invoice your customers – 'immediately' or 'later'. The choice is all yours.
Parents can click on your booking link, look up available places and book the sessions they want. They can pay for the sessions immediately or later - based on how you set up your payment preferences.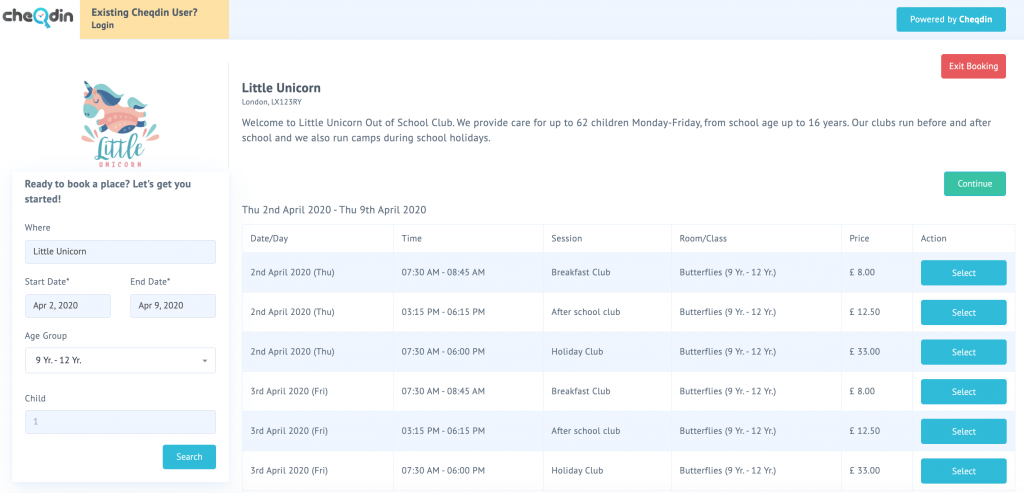 And, as for the confirmed bookings, our system will automatically add them to your daily register to make sure you have your day's sign-in sheets ready in your Cheqdin app for a smooth digital sign-in/out.
A brilliant occupancy planner to plan your rota to the 't'
'CheqOccupancy' is another intelligent helper you can rely on to plan your staff rota accurately.  Apart from the occupancy percentage for each day of the month, you will even get an hourly breakdown of the expected number of children in each room/group of your setting.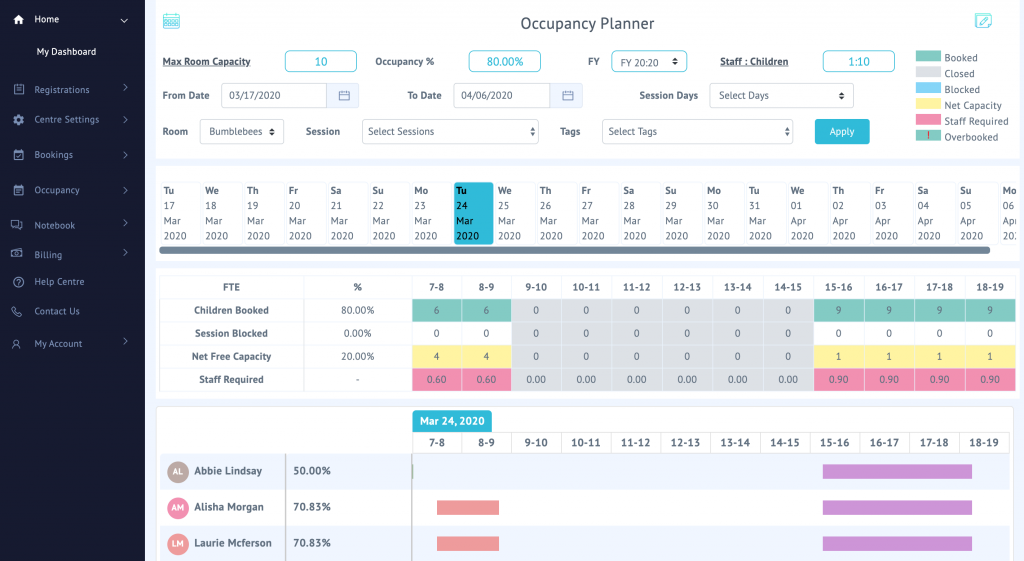 The planner also comes with a range of other handy insights that will help you upsell every vacant spot and run your centre at full capacity.
Bulk-upload and Auto-sync features to cut down your data-entry
The exciting functionalities aside, we also know the pains of the initial transition when you migrate to a new platform. We know just how tiresome it is to manually type in the three-to-five-page-long registration details of each child in your current register, save and repeat.
This is precisely why we've put in the 'bulk-upload' and 'auto-sync' features. Both these features will work hand-in-hand to cut down a good bit of this paperwork and make your data-entry as effortless as possible.
All you need to do is download our CSV template, copy-paste the relevant details of all the children from your existing spreadsheets and upload it into your children's register - all in one go.
Once that's done, our auto-sync feature will get to work generating new registration and consent forms for each child and sync the data into them for you. You can then unlock these forms and invite the parents to update and sign them online (with a digital signature).
Now, this is till you get started with the new Cheqdin! It will be a whole new story once your 'online registration' is up and running. Every time a new child is enrolled online, we'll automatically sync the child's details into your children's register, eliminating the trouble of manual entry altogether (well, except for the odd time when you might want to key it in manually).
A free parent portal for your customers
Remember speaking to your web-developer about a web portal for parents, but ended up scrapping it because of all the hassle and expenses involved? Your new Cheqdin account will help you solve that as well. Besides all the management capabilities you get to run your centre, you can also give your customers a cool new parent portal to manage their bookings, payment history and messenger – all in one place.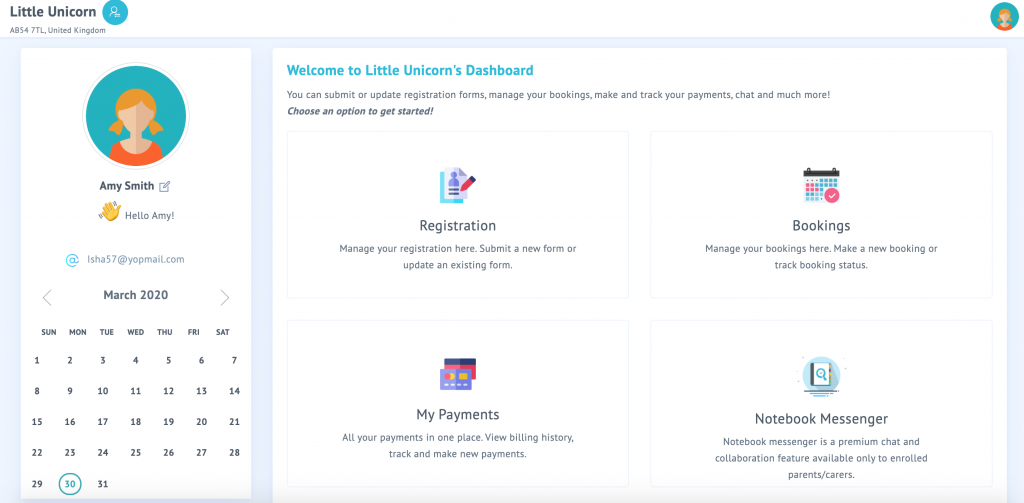 Every time a new customer registers with you, the system will trigger a welcome email to them with their unique logins to their portal, and yes, of course, the free parents' apps.
Accessible for centres across the globe
With 2.0, we've also squashed some bugs and made the Cheqdin experience as seamless as ever for our international customers. No matter what part of the globe you are on, you can access our software effortlessly and choose your trading currency when you set up your account.
All these premium features…for free
And, now comes the biggest part. To make sure childcare businesses of all sizes get to benefit from our software, Cheqdin is now completely free for all childcare centres and schools for up to 25 children! No fine print or contracts to tie you down. You will have unlimited free access to 'all our features' for the set number – and for as long as you wish to use them. You'll only need to upgrade to an affordable monthly/annual plan if you'd like to add more children to your plan.
Sign up for your free account and get started on a fabulous new journey with us.
Are you offering care for keyworkers' children and cater to more than 25 children? Please get in touch with us to avail an extended free plan as a small gesture from us to say thank you.
Recent Comments