From patchy systems to manage daily bookings, club management solutions have evolved into a class of their own. Until a decade ago, when activity clubs and after school clubs were a forgotten segment with limited choices, the only option for clubs that wanted to digitise their admin was to go for expensive custom solutions.
However, with new off-the-shelf booking systems (subscription software) entering the market, even the smallest of clubs now have the luxury of managing their operations smoothly with apps and software systems that are affordable and easy to use. But with the increase in options, making the right choice can be quite tricky.
If you are looking for an affordable booking system that lets you cut down your admin without altering your existing setup, here are some of the essential features you should look for.
Auto-sync bookings with daily registers
Most online booking systems come with daily registers as one of the complementary features. But make sure you check if the system automatically syncs the newly placed bookings with your sign-in sheets, or will you have to add the bookings to your register manually and print them off every day? Booking systems with auto-sync features can save you a lot of time and hassle as they will automatically update your registers every time a booking is approved.
Intelligent occupancy planner
The occupancy planner is the cogs behind the booking system that makes an assessment of the vacancies in each room and updates the system. It should give you a comprehensive overview of the expected numbers for each day as well as the number of staff required for each room based on the number of children that are booked in for each session.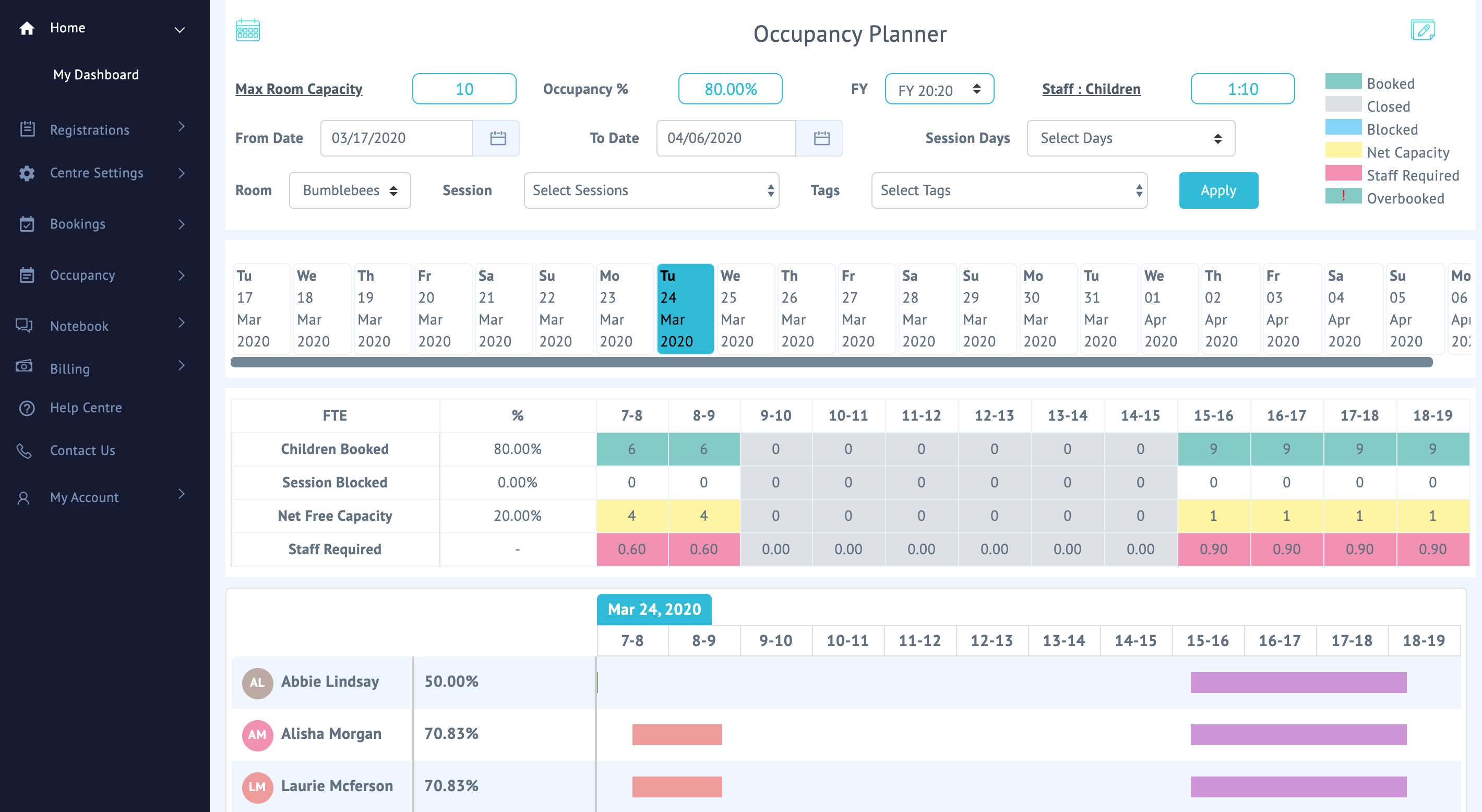 Online and offline payment choices
Unless you go for an in-house booking system where you build the software from the ground up based on your preferences, you are left with the limited payment options like debit/credit card/childcare vouchers) that generally come with subscription software. However, things have now taken a turn with innovative solutions as we now offer at Cheqdin. Besides the usual card and voucher payment options, you will have the flexibility to add your own offline payment choices such as 'cash', 'pay later'. This will allow you to continue with your existing billing preferences and allow parents to book slots online and make their payments either online or offline based on the custom choices you provide on your bookings page.
Flexible invoicing
As handy as an automated billing system can be, it can sometimes be a bit of a hassle when you offer online bookings. This can especially be the case if you prefer to club the bookings for each child and invoice them at, say, the end of the month/term. Similarly, you wouldn't want to keep the automated invoicing option on if, for example, you are used to offering credit to some of the families and do not want the system to shoot off an automated invoice to them when they make a booking. Make sure you check with the provider if you will have the flexibility to turn off automated invoicing if required.
Registration forms
A built-in registration feature is another valuable add-on if you are looking to cut down your back office administration. Some systems offer registration systems where the administrators can fill in the details of the children, while more advanced solutions will come with online registration forms that the parents can complete themselves, sign digitally and submit online. This saves you the trouble of scanning and saving the forms to the system or typing up the details manually.
Who we are?
Cheqdin is one of the pioneers in subscription-based after school club management systems. Our revolutionary solution comes with a full set of administrative features starting from online bookings and registrations to payment collection and parent communication. Interested in trying it out yourself?
You might also like:
Online Registrations made simple for childcare providers > View Article
How to manage your online booking slots with CheqBook > View Article
Recent Comments