For all the times you've had to struggle chasing parents to update registration forms, here's an easy fix to get the process done like clockwork. This specific functionality's been one of the top requirements on the online registration wish list of most of our users.
So here goes!
Step 1: Filter forms by the 'last updated' date
Head over to your registration dashboard and filter out the forms based on the 'last updated date'.

Step 2: Unlock the forms and trigger automated emails to parents
Select the children. Go over to the 'batch action' function and click 'unlock'. And that's it! The system will trigger an automated email to the parents, asking them to review and re-submit the forms.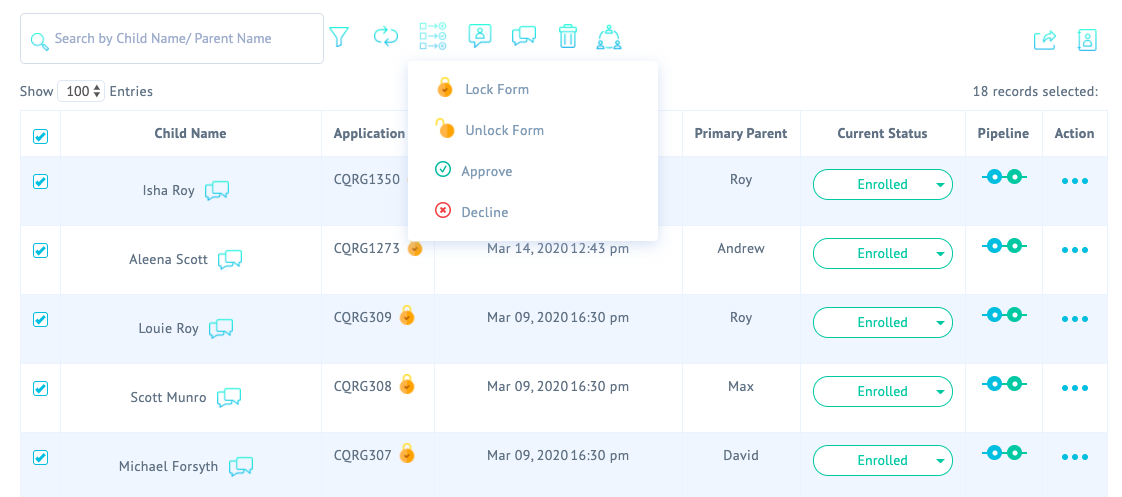 Every time a form is re-submitted, it will automatically find its way to the 'Pending Review' folder for you to review and approve. And we'll, of course, send you an alert to notify you about the re-submission.
What if you need to amend a form you'd already approved?
Just select the child, click 'Action' and go on to 'Edit enrolment' to make the changes. Done!

Managing registration forms of children who are taken off your register
Now, in case a child leaves your setting permanently, you can use the 'archive' function in the pop-up box above and file away the child's forms for compliance purposes. The documents will be archived permanently as read-only records.
However, if you decide to take any children off your records temporarily, it's best not to go for the archiving function. Just deactivate the child from your children's register, and the associated registration forms and other records will be 'temporarily archived' by the system. The files will be automatically restored for you once the child is activated again.
So, that's about it for today! We've added in plenty of other handy features into the registration system like auto-sync features, in-built messenger and waiting-list management to make your registration process as efficient and effortless as possible. We'll be back with another ProTip on one of these features next week to help you get the very best out of Cheqdin! :)
Not using Cheqdin yet? Sign Up Free
You might also like:
Managing your online booking slots on CheqBook > View Article
The Best ways to make use of Cheqdin if you are operating during COVID closure > View Article
Recent Comments